Lee Jong Suk Crank Up in Manila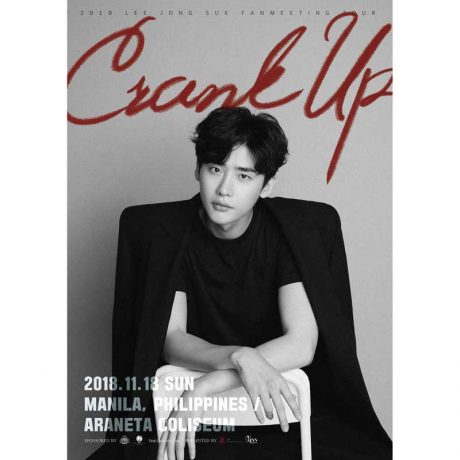 Lee Jong-suk is the ideal man of about, 3 billion girls all around the world. Lee Jong Suk was born on September 14th, 1989. He has 2 siblings, a younger brother who is 2 years younger (and taller than he is) and a younger sister. He has a charming personality, besides a natural ability to act and model, which catches the eyes and hearts of many people, both in the acting world and in his fans. He attended Konkuk University, majoring in Professional Motion Pictures Art. He became one of 2,200 students out of 21,268 who passed the entrance examination in Konkuk University. He graduated last 2016! And not only that, He got officially recognized as the good will ambassador of "Global Aviation in Ansan". He later received a 3-month-training to become a pilot.

He is an actor and model from South Korea. Started as a fashion model in 2005, 15-year old Lee Jong Suk became the youngest male model ever for the Seoul Collection program at the Seoul Fashion Week. After he achieved success and appreciation as a model, he decided to try his luck in acting. His first professional role was in the TV series 'Prosecutor Princess', where he played a supporting role. He became popular following his role in 'School 2013', a South Korean TV series which focused on problems such as bullying and school violence, faced by most Korean youths. The show was a success and won multiple awards. For his performance, Lee received the 'KBS Drama Award' for Best Actor, his first acting award.
Some of his notable works includes the popular 2014 series "Doctor Stranger" where he played the role of Park Hoon, a North Korean defector who works as a doctor in South Korea, the film "Hot Young Blood" where he was a cheesy womanizer Joong Gil, and his first lead role in the TV series "Pinocchio" where he played as Choi Dal Po, a just and honest news reporter. His brilliant performance in "Pinocchio" earned him so much appreciation and special awards such as the Grimae Award for Best Actor.
Lee Jong Suk continued to receive recognitions and was awarded with an Excellence Award in the male category at the 2013 Korea Drama Awards for his role in the critically acclaimed series "I Can Hear Your Voice". Nothing can seem to stop Jong Suk's rising career as he continued to star in various TV series and movies. He also starred as the uptight yet competitive national swimmer, Jung Woo Sang at the 2013 box office hit film "No Breathing". He continued acting in TV shows and has become more popular than ever in the 2017 show While You Were Sleeping. And just in case you weren't convinced by Lee Jong Suk's acting credentials over the years, he has signed into the Chinese market and has announced he is playing a lead role on Jade Lover. Lee Jong Suk is immensely popular and becoming even more so every day. Such a Hunk!
Brought to you by Pulp Live World, titled "Crank Up in Manila," Korean actor Lee Jong-suk will be on this side of the world for a fan meet on November 18, 2018 at Araneta Coliseum in Quezon City. The successful actor hopes to get to know his fans and take a look back at his career up until now. He believes this will help him grow as a person.
Proving his talent and capability to the world, he switched genres to dramas and played an important part in R2B: Return to Base (2012) a remake of 1980s classic Top Gun. Besides his modeling career and his roles in television series' and movies, he has also appeared in several music videos.
Apart from the Philippines, the World Tour of Lee Jong-Suk will also have stops in Osaka, Tokyo, New York, Los Angeles, Taiwan, Thailand, and Indonesia.
The performance of the actor in the recovery of this poor boy cemented his place among the hearts of many South Koreans. 2016 saw him through successful TV series like W, for which he was nominated and won many awards. Lee Jong Suk is a young and talented actor and model. He will be around for years to come. That's for sure!
So, prepare those light sticks, memorize those fan chants, plan your pre-concert activities, get those emotions in check and prepare yourselves to see Lee Jong Suk live!
Get the Latest Concert Updates