Toyota Music Fest 2018
Toyota Music Fest on July 28, 2018 at Filinvest City Event Grounds, Muntinlupa City.
Toyota Music Fest 2018 featuring Ely Buendia, Parokya ni Edgar, Sponge Cola, Hale, 6CycleMind, Callalily, Ebe Dancel, Silent Sanctuary, Rivermaya, Cueshe, IV of Spades, Ben&Ben, December Avenue and The Ransom Collective.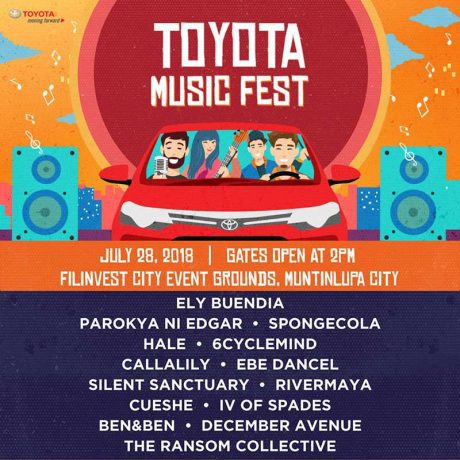 Ticket Details:
Register online at ToyotaMusicFest.com.ph for Free Tickets.
1 registration is equal to 1 ticket. Limited tickets only!
1st Batch of Tickets Sold Out!
Next Batch of Tickets available on July 15, 1pm.
Toyota Music Fest Registration Link – https://www.toyotamusicfest.com.ph/
More details at Toyota Motor Philippines Facebook Page
Tags 2018 music festivals6cyclemindcallalilyebe dancelely buendiafilinvest city event groundsfree concertshaleparokya ni edgarsilent sanctuarysponge colatoyota motor philippinestoyota music fest filinvest groundstoyota music fest ticketstoyota music festivaltoyota philippines
Get the Latest Concert Updates