Sungha Jung Live in Manila and Cebu 2018
Sungha Jung Live in Manila on February 11, 2018 at the Newport Performing Arts Theatre, Resorts World Manila on Sungha Jung Live in Cebu on February 9, 2018 at the J Centre Convention, Mandaue City, Cebu.
Tickets available at ticketworld.com.ph/sunghajung2018manila and ticketworld.com.ph/sunghajung2018cebu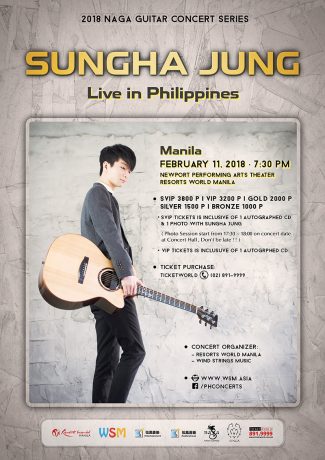 Followed by his sold out concert in Manila in 2017, Sungha delivered a world class performance in guitar playing, crafting and blending beautiful melodies with his unique blend of bassline and accompaniment. Sungha's superb right hand technique allowed him to master his instrument, and a color each musical piece with beauty and heart-felt expression.
Ticket Prices:
Sungha Jung Manila Concert
SVIP – P3,800 (Inclusive of 1 authographed CD / 1 Photo with Sungha Jung)
VIP – P3,200 (Inclusive of 1 authographed CD)
Gold – P2,000
Silver – P1,500
Bronze – P1,000
Buy your Tickets now at ticketworld.com.ph/sunghajung2018manila
Sungha Jung Cebu Concert
SVIP – P3,600 (Inclusive of 1 authographed CD / 1 Photo with Sungha Jung)
VIP – P3,000 (Inclusive of 1 authographed CD)
Gold – P1,800
Silver – P1,300
Bronze – P800
Buy your Tickets now at ticketworld.com.ph/sunghajung2018cebu
Tags 2018 concertscebu concerts 2018february 2018 concertsmanila concerts 2018sungha jung live in cebusungha jung live in manilaSungha Jung live in Manila ticketsticketworld
Get the Latest Concert Updates