Debby Boone Sings Karen Carpenter Rescheduled
Updates:
"The Debby Boone Sings Karen Carpenter date has been reset due to conflict in touring schedule.
Please await further announcement regarding new date.
Thank you and we apologize for the inconvenience this might have caused you." – Ovation Productions
Debby Boone Sings Karen Carpenter on March 8, 2017 at the Smart Araneta Coliseum, March 10 at the Cebu Waterfront Hotel in Cebu City and March 11 at the SMX Convention Center in Lanang, Davao City presented by Ovation Productions.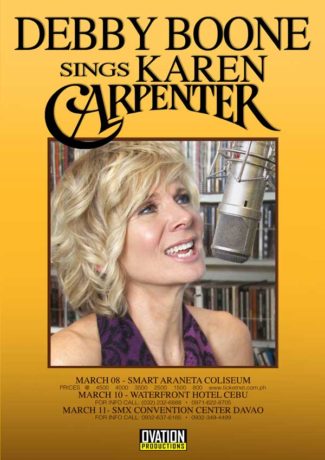 The singer behind one of the top-selling pop hits of the 1970s pays tribute to an iconic singer and her music when Debby Boone performs the greatest hits of Karen Carpenter.
Ticket Prices:
Smart Araneta Center show (March 8)
P4,500
P4,000
P3,500
P2,500
P1,500
P800
Tickets now available online at ticketnet.com.ph and at all Ticketnet outlets.
For tickets and other info on the Waterfront Hotel Cebu concert on March 10, call (032) 232 6888/0971-622-8705.
For tickets and other info on the SMX Convention Center-Davao concert on March 11, call 0932-637-6185/0932-349-4499.)
Tags 2017 concertscebu 2017 concertsdavao 2017 concertsdebby boone live in manilamarch 2017 concertsovation productionssmart araneta coliseumticketnet
Get the Latest Concert Updates