All Time Low Live in Manila 2017
All Time Low Live in Manila on August 22, 2017 at the Mall of Asia Arena. All Time Low The Young Renegades Tour Manila is presented by Pulp Live World.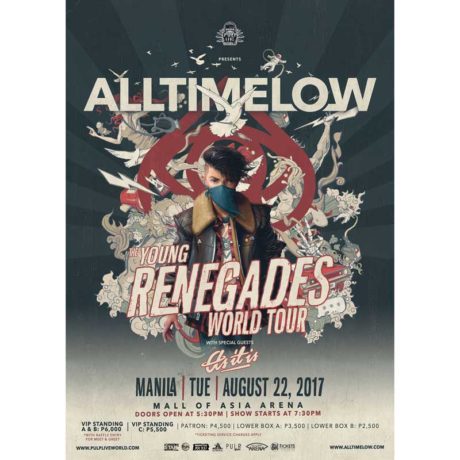 Joining All Time Low this coming August are the folks of As It Is from Brighton, England, who will be performing in the Philippines for the very first time.
Ticket Prices:
P6,360 (VIP STANDING A&B)
P5,830 (VIP STANDING C)
P4,770 (Patron)
P3,710 (Lower Box A)
P2,650 (Lower Box B)
Tickets now available at all SM Tickets outlets nationwide and online thru www.smtickets.com
For inquiries about the PULP Royalty package with exclusive privileges, you may e-mail [email protected] or contact the PULP Royalty hotline at 727-4957.
Tags 2017 concertsall time low live in manilaall time low manila concert 2017all time low the toung renegades tour manilaas it is live in manilaaugust 2017 concertsmall of asia arenapulp live world
Get the Latest Concert Updates