KARD Showcases a Shuffle of Surprises in Manila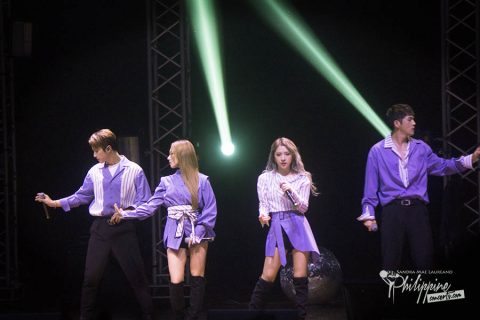 February 10, 2018 – K-pop quartet group KARD held the final stop of their Wild KARD Asian Tour at the KIA Theater, showcasing a shuffle of dynamic and exceptional performances. Before Manila, they had done successful shows in Asia, America, South America and Europe.

Hidden KARDs (the name of the group's official fanclub) were in for a treat. Not only were they able to witness a highly enjoyable show, they were also able to get closer to the members of the band through the Q&A portion, lucky draws and for the lucky few, an up-close meet and greet session.
Having made their debut on July 2017, KARD is considered as one of the rising groups today as they draw people in with their distinct character. For starters, they are one of the very few co-ed K-pop groups to grace the world, considering that the scene if filled with purely girl and boy groups. For another, the members BM, J-Seph, Somin and Jiwoo, bring in their own flavor to the band — talents, passion and quirks included.
Read on to discover more about them through these highlights below.
1. KARD Drew the Crowd In
KARD laid out their decks well, so to speak. The evening was enjoyably engaging for Hidden KARDs and casual concert-goers alike. The quartet's dynamic stages featuring a mixture of RnB, rap, EDM and some ballads, definitely made the show worthwhile. Their performances can range from the alluring (the slow and steady) "Trust Me" and "Into You", to the more danceable tracks "Push & Pull", "Oh Na Na" and "Hola Hola". The group's also performed a fun rendition of Ariana Grande's "Side to Side" and Bruno Mars' "24K Magic".
2. BM's Filipino Connections
When asked about how the band found the Philippines, BM jokingly replied, "we looked on the world map." As it turned out, BM grew up in Los Angeles, and he is no stranger to Filipino culture, particularly our native favorites.
"I have a lot of Pinoy friends so this is very exciting for me. I always wanted to come to the Philippines so I'm so, so happy! When I go to my Filipino friends' house, I would eat sinigang, lumpia, chicken adobo. I love the food here!"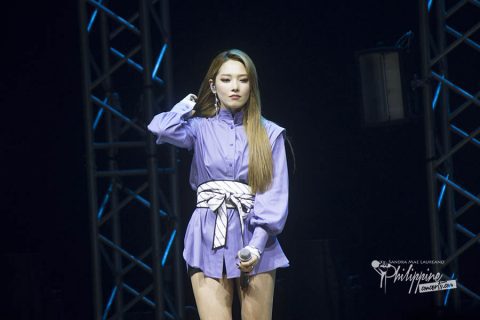 3. Jiwoo's Biggest Secret
"When normal people sneeze, they go 'achoo', but when Jiwoo sneezes, she goes "achoo~ng' ", J. Seph answered in her stead. "That's how she introduces herself to strangers whenever she sneezes", BM chimed in.
4. J. Seph's Athletic Side
J Seph revealed that he likes sports a lot. Currently, he's into table tennis. "I also like football, I also love watching football, and playing football," he added.
5. KARD: Four of a Kind
Each member got their own time to shine as they took on their solo stages which they exclusively prepared for their Asia Tour. The girls' vocal prowess soared as Jiwoo performed a cover of Winner's "Really Really" while Somin did Taeyeon's "Fine".
The boys, J. Seph and BM, showed a lot of swag while performing their self-composed rap/RnB songs. J. Seph narrated, "Since I became a trainee 5 years ago, I knew I had to write and perform a song with this message". Meanwhile, BM explained that his track "Livin' Good Pt. 2 is a continuation to the bonus track of their previous album. He added, "I had to make a part 2 because I was so thankful for all our Hidden KARDS who have been supporting us."
6. KARD's Sincerity
KARD expressed their gratitude and love for the Filipino crowd. Manila, being the last stop of their Asia Tour, felt special for all of them. (The members, except for BM, spoke in Korean while a translator relayed their messages in English. BM is fluent in English.)
"Wild Kard Tour 2018 Asia has been so crazy and to be able to end it right here in Manila is the best place to end it. Thank you so much for welcoming us to this beautiful country! We have to come back!" BM excitedly addressed the crowd on their encore stage.
Somin thanked the crowd for their energy: "It was a lot more fun than we expected it to be. Because of all your support, we were able to come here in Manila. We are grateful. From now on, we'll come back with better performances and songs. You'll wait for us, right?"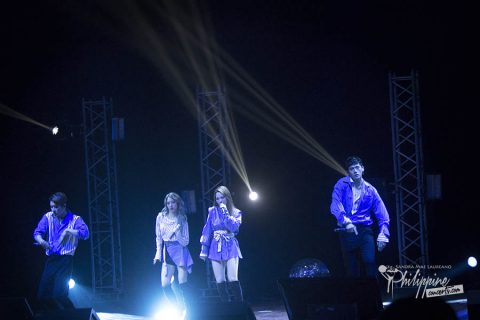 Jiwoo's words were short and sweet. "I'm happy that we are able to end our Asian tour in the Philippines. Thank you for coming out tonight and filling up the theatre! It was because of you that we were able to perform well."
Lastly, J. Seph gave a heartfelt message as he expressed his thanks. "Actually, we can never really shine bright by ourselves. It's all thanks to you guys that we are able to be here to shine with you all. It's because of you that we are able to get a chance stand here tonight. We are thankful for your support which gives us strength. Thank you once again!"
Special Thanks to MyMusicTaste
by Sandra Mae Laureano
Tags kard live in manilakpop concertsmymusictastewild kard asian tour manila
Get the Latest Concert Updates