BTS Takes Flight with Wings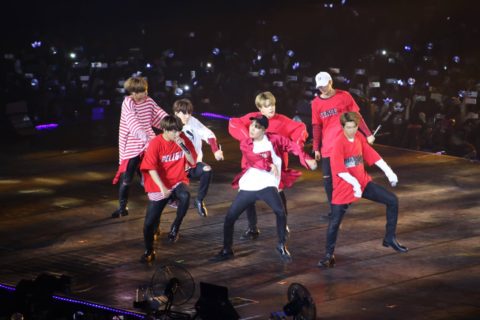 The closing VCR of the concert quoted Bob Dylan:"How many roads must a man walk down before you call him a man?" Given the story of BTS' success, the quote resonated with me to mean the one thing the group shed blood, sweat, and tears for—recognition. They have conquered hearts, charts, and major music awards since their beginnings in 2013 under a small label with a humble background. It's only been three years since  their debut and they're already at the top of their game. The Wings Tour in Manila, held for two days at the MOA Arena, was testament that they deserve the recognition.
The night began with a bang with the hard-hitting Not Today,  followed by high-energy performances of Am I Wrong, Baepsae, and Dope before individual stages took over.
Youngest member Jungkook  kicked off the solo performances with Begin. The song called for  demanding footwork, but he showed no exhaustion as he paced flawlessly through every note. Jimin followed suit with Lie, mesmerizing the audience with dulcet tones matched by the  fluid yet defined movements of a contemporary dancer. Suga continued the streak with First Love, his fiery bars complimented by a strings section. The harmony of his raspy voice and the weeping instruments was soothing to the senses.
The first unit of the evening—BTS' vocal line consisting of Jungkook, Jimin, V, and Jin—took to the stage for Lost. The rest of the members joined in for Save Me and I Need You, the  latter being the body roll-inducing track that landed them their first music show win back in 2015.
Leader Rap Monster returned on stage for the rest of the solo performances. His song, Reflection, highlighted both his charisma as a rapper and his skills as an emotional songwriter. The fans' fondness of the leader shone through when they responded to Rapmon's "I wish I could love myself" line with "saranghae" (I love you).
After a theatrical transition in which Rapmon walks into an on-stage telephone booth, the lights flicker back on to reveal V inside the booth, kicking off his solo stage with Stigma. Vshowcased his range as a vocalist by hitting both the lower notes and belting, as well as sustaining the higher ones.
Up next was the group's main dancer J-Hope who lived up to his reputation as BTS' resident mood-maker with Mama. His solo, though as light and as jovial as his personality, underscored  his skill as a dancer and a rapper. Wrapping up the solos was oldest member Jin who delivered a heartfelt performance with Awake. Leaning towards a more ballad-like tone, Awake was Jin's time to shine as a singer in his own right.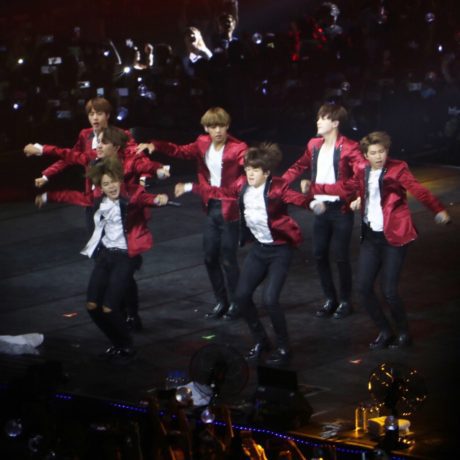 All their songs were catchy, but the one track that had us pumped up was the rapper line's Cypher Pt. 4. In true boss fashion, Rapmon, Suga and J-Hope donned thick faux fur coats for the fourth installment of the Cypher series which is fueled by doubters and haters.
The boys then came back together as a group for their viral hit Fire before taking fans a trip down memory lane with a medley of their previous title tracks N.O., Boy in Luv, Danger, Run, and their debut single No More Dream.After their energetic performance of 21st Century Girls, during which the audience flashed their banners as  part of a fan project, J-Hope switched to a more serious mood with his Boy Meets Evil dance solo. This was then followed Blood, Sweat, and Tears and Outro: Wings before they said their goodbyes.
The fans sang along to 2!3! , a song about looking forward to better days, as if to say they'll be there as BTS reaches for their goals. Spring Day capped off the night, a fitting finish with its lifting background instrumentals and the message of never forgetting as a new season begins.
It was a memorable night, and we witnessed a lot of people in tears and overcome with emotion.
BTS is a shining example of growth through hard work, grit, and passion. It's amazing how much they've grown individually and collectively since the last we saw them.Their voices were clearer and more stable; their choreography sharper and better synchronized.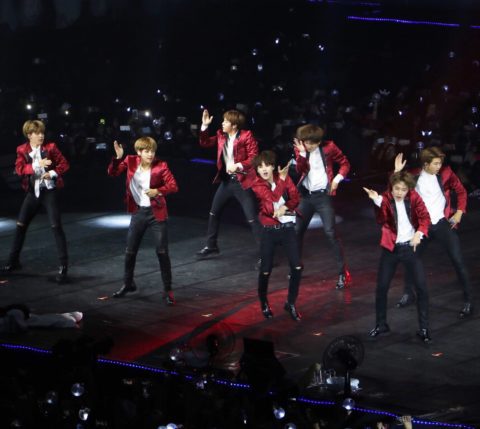 With the Wings album, BTS proved their talent not just as performers but also as producers. Each member penned their solo tracks,save for youngest member Jungkook whose solo track Begin was composed by Rapmon, although the sentiments behind it were entirely Jungkook's. They also took charge of conceptualizing the album's theme. The group continues to sing about growing pains and emotional dilemmas,dissing the government and fighting back at haters—not your regular K-pop fare.They've consciously written about subjects that the youth face, from teenage angst and uncontrollable hormones to the impending weight of adulthood.
Their effort and dedication to speak Filipino is admirable. They barely spoke a line in Korean or English through the night. As my friends would ask, sinong mag-aadjust? They did.
The fanservice is also appreciated. It was absolutely impossible for the group to get close to all the fans, so they walked to every corner of the stage and tried to stay within arm's reach. They talked directly into the cameras, which were as close as some people could get.
Two things were highly regrettable, though. There were issues with the audio, with the microphone drowning the vocals or being completely cut off for brief moments. Still, for an event of this scale, organizer Pulp Live World was efficient in communicating with fans online, managing entrance queues, setting up the stage, and recruiting bouncers to keep fan behavior in check. The other was reported stolen items from Korean fansite masters. One lost her phone while another lost her money during a gathering of fansites. Nonetheless, it was a splendid evening. For some, it was the most beautiful moment in their lives.
Written by Marijo Endriga and Erianne Du
Photos courtesy of Mall of Asia Arena
Special thanks to Pulp Live World
Get the Latest Concert Updates