West Side Story Musical
West Side Story Musical from August 10-27, 2017 at The Theatre at Solaire Resort.
Tickets now available at ticketworld.com.ph/westsidestorymusical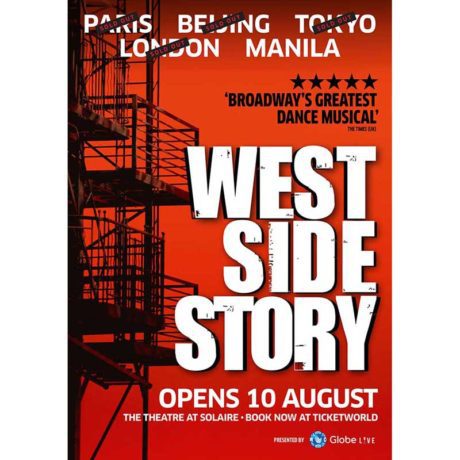 Described as "The No.1 Greatest Musical of all Time" by The Times, UK, WEST SIDE STORY is as relevant as it has ever been.
Inspired by Shakespeare's tumultuous love story Romeo and Juliet, and set amidst the vicious rivalry of teenage gangs in the 1950s New York, WEST SIDE STORY's ground-breaking choreography and unforgettable score changed the face of musical theatre for ever when it burst unto the broadway stage in 1957.
Ticket Prices:
P7,000 VIP
P5,800 A Reserve
P4,500 B Reserve
P3,500 C Reserve
P1,500 D Reserve
Buy your Tickets now at ticketworld.com.ph/westsidestorymusical
Book by ARTHUR LAURENTS
Music by LEONARD BERNSTEIN
Lyrics by STEPHEN SONDHEIM
Tags 2017 musicalsaugust 2017 musicalsthe theater at solaire resortticketworldwest side story at solaire resortwest side story manila
Get the Latest Concert Updates