Disney's The Lion King Musical 2018
Disney's The Lion King The Musical from March 18 to May 27, 2018 at The Theatre at Solaire Resort.
Tickets now available at ticketworld.com.ph/lionking2018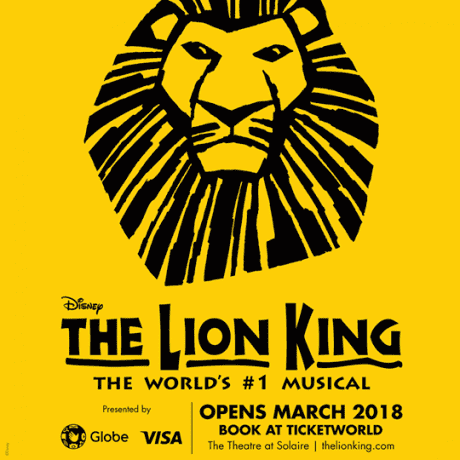 Winner of over 70 major international theatre awards, THE LION KING brings together one of the most innovative creative teams on Broadway. Brilliantly re-imagined by acclaimed director Julie Taymor, Disney's beloved film is transformed into a spectacular experience that will redefine your expectations of theatre. THE LION KING also features some of the world's most recognisable music, crafted by Elton John and Tim Rice, including the songs "Circle of Life" and the Oscar® winning "Can You Feel the Love Tonight".
Ticket Prices:
P1900-P7250
Buy your Tickets now at ticketworld.com.ph/lionking2018
Tags 2018 musicalslion king musicallion king musical manilathe lion king 2018the theatre at solaireticketworld
Get the Latest Concert Updates