BETWEEN – US: CNBLUE live in Manila 2017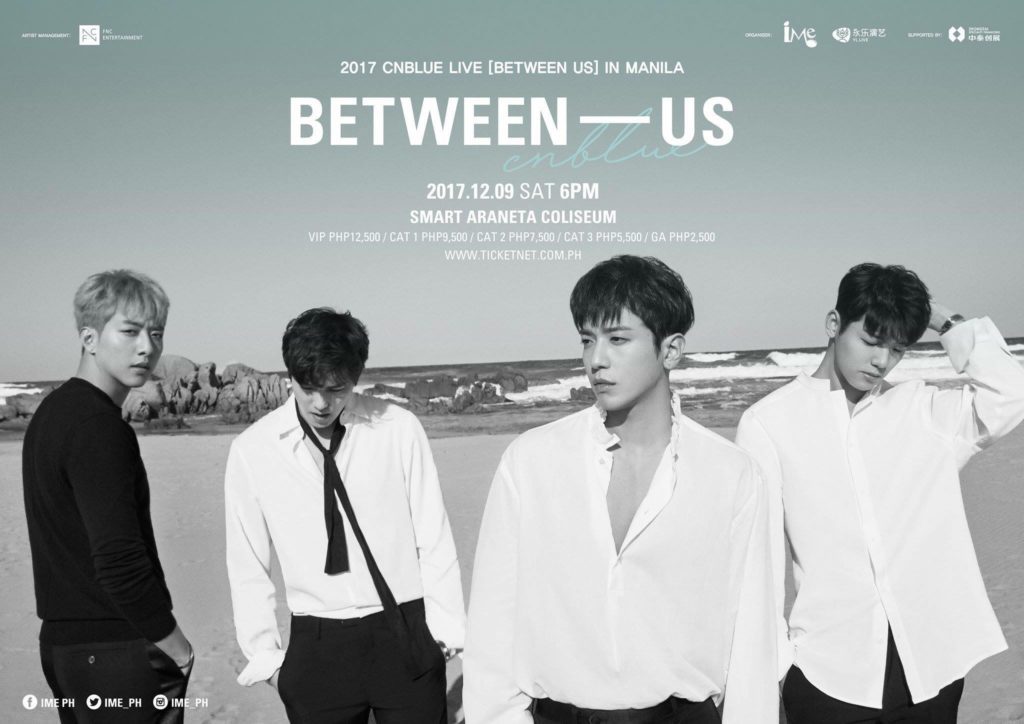 K-POP Rock Band CNBLUE is coming back to the Philippines! The group—composed of Yong-Hwa Jung (main vocal, rhythm guitar), Jong-hyun Lee (lead guitar, vocals), Min-Hyuk Kang (drums, vocals), and Jung-Shin Lee (bass guitar, vocals) is set to perform live for their filipino fans once again for the last stop of their tour "2017 CNBLUE LIVE – Between Us" in Manila this coming December 9th (Saturday), 6:00PM at the Smart Araneta Coliseum.
Known for their high-energy live performances, CNBLUE is undoubtedly one of the most prominent bands in Korea's music industry. Comprised of lead ​vocalist and guitarist, Jung Yong Hwa, lead guitarist and vocalist, Lee Jong Hyun, bassist, Lee Jung Shin and drummer Kang Min Hyuk, they have recently made an impactful comeback with their latest mini-album 7°CN  with lead single Between Us nd was released on March 20, 2017.
Fans can look forward to a night of endless surprises, as the quartet showcases their vocals and demonstrates their musical talents through their live performances and new renditions of their songs. 'Domino' and 'I'm a Loner' will be given fresh leases of life on the synthesiser, and audiences can expect a wide array of musical styles ranging from the jazz pop intro in 'LOVE', to the reggae-influenced 'Rollercoaster', as well as ballads 'Hold My Hand' and 'Irony'.
Filipino Boice are surely on for a treat the South Korean Boy Band heads over to Manila for the LAST STOP of their Between Us Tour!
Ticket Prices:
VIP – P12,500
Cat 1 – P9,500
Cat 2 – P7,500
Cat 3 – P5,500
GA – P2,500
For ticket purchasing, reservations and inquiries, you may contact Ticketnet at 911-5555 or visit their website at ticketnet.com. 2017 CNBLUE [BETWEEN US] LIVE IN MANILA is brought to you by IME Philippines.
Get the Latest Concert Updates