Truly Once In A Lifetime Ride
Train Live in Manila Concert Review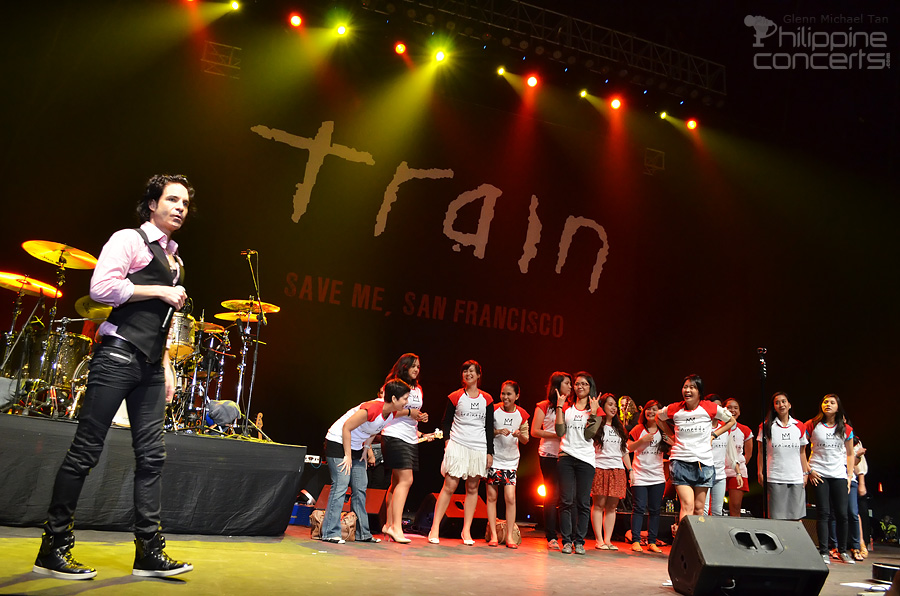 Californian pop-rock hitmakers and Grammy winner Train returned to Manila last December 7, 2011 for their once in a lifetime ride at the Smart Araneta Coliseum.
The show opened with 6 Cyclemind and performed a set of their OPM hits. The organizer arranged the set for the much-awaited performance of Train immediately after the last song from 6 Cyclemind. Train went on at exactly 9PM after the steam engine and train whistle sound effects. Pat opened their Save Me, San Francisco Tour in Manila with Parachute which got the crowd of over 5,000 fans energized for the entire set. The 2nd song of the night was one of their biggest hits called If It's Love while taking photos of the audience.
They also treated the fans with their cover of Journey's Don't Stop Believing. During this song, Pat caught 2 girls singing in the crowd and immediately invited to go on stage to sing with him. One of the girls nailed the performance and wowed the entire arena including Pat.
The band also performed She's On Fire wherein the vocalist picked a bunch of ladies in the crowd and each them received a shirt from the band. Selected girls were asked to show their talents through dancing and Pat made a deal that he will give a signed guitar to one lucky lady that will impress him on stage and he actually did, one of ladies received a signed black guitar from Pat.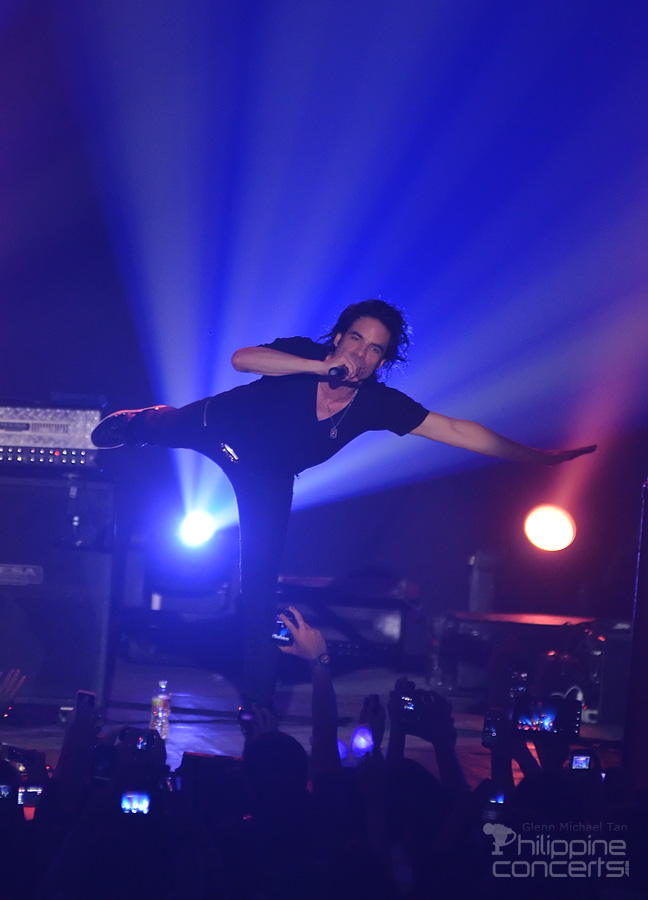 Some of the performances were the inspirational Calling All Angels, Save Me, San Francisco which was one of the crowd favorites and in a rarely set they included Shake Up Christmas. One of the highlights was the performance of Marry Me, the singer joined the crowd by going all the way out to the patron section. Fans screamed out loud, running and trying to spot him closely. Audience grabbed his hands while the securities were trying to keep him at a safe distance.
The last song before taking a break to prepare for the encore set was their Grammy winning song Hey Soul Sister. Pat was moving around the stage while generously giving away Train shirts to the crowd. Of course as a part of their encore set, they didn't leave us without singing their biggest song Drops Of Jupiter which was the perfect way to close the entire set.
Train live in Manila 2011 was the most interactive concert we've ever seen. They did it all. Pat joined their fans during Marry Me, picked a group of girls from the crowd to sing and dance on stage. Gave away guitar and shirts. They kept us on our feet from start to finish. The venue was infected by Train's lovable songs and hits. The sound was excellent and Train together with Dayly Entertainment brought top of the notch production set up and values.
More Train Live in Manila Photos at the Philippine Concerts Gallery
Train live in Manila 2011 was presented by Dayly Entertainment
Don't miss their next event Simple Plan Live in Manila on January 12, 2012
Written by Vincent Sulit
Photos by Glenn Michael Tan
Tags dayly entertainmentgmtansmart araneta coliseum concertstrain concert photostrain concert picturestrain concert reviewtrain live in manila 2011Train live in Manila concert reviewtrain manila concert 2011train manila concert photos
Get the Latest Concert Updates