Sorry For Pure Entertainment… Party Rockers in Manila!
Sorry For Party Rocking Tour: LMFAO Live in Manila Concert Review
Smart Araneta Coliseum was packed again for the Sorry For Party Rocking Tour: LMFAO live in Manila. I was not sure what to expect, but I knew I was in for a big concert party. It was a wild and fun night because the entire party rock crew brought their party scene and unstoppable energy that electrified over 10,000 fans. The crowd ranged from kids 9-12 years old, teens, to young professionals to people well into their 50's, proving that party rock has no age limit. A lot of die-hard fans were wearing animal prints, colorful afro wigs and all out bling. The venue was full of neon colors, stylish glasses and glow sticks that lit up the crowd.  A  DJ from the crew did a great job in hyping up the concert-goers.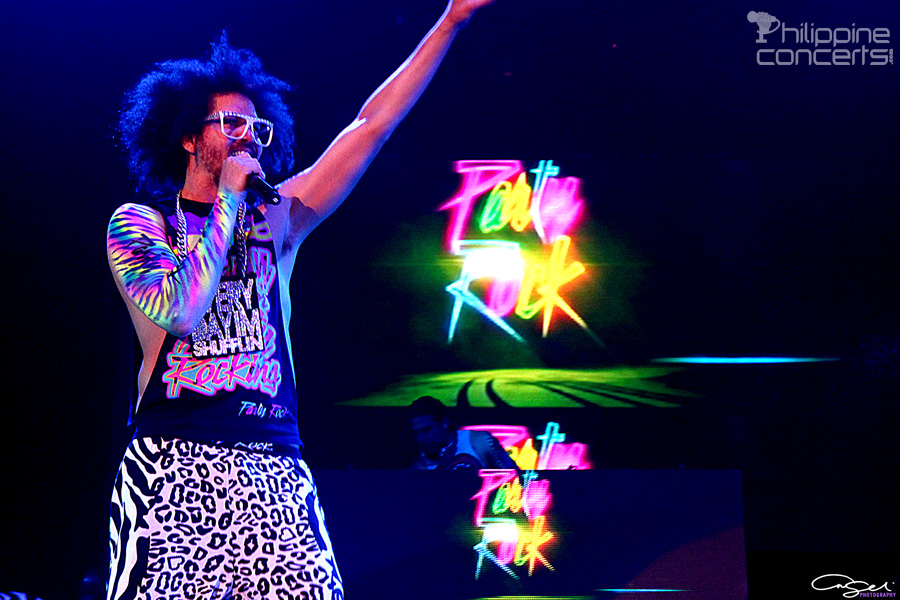 The true party began when Red Foo hit the stage, even without Sky Blu, he got everyone to move and jump. Accompanied by America's Best Dance Crew winner Quest Crew, he opened the night with Rock to the Beat and immediately followed by their tour title and hit single Sorry For Party Rocking. Once again the Big Dome turned into a big disco party. Everyone was dancing onstage and the crowd was clearly having a great time. It was a pure entertainment on every facet from the stage, crew, costumes and the props including the huge inflatable zebra and beach balls.
Red Foo took the opportunity to interact with the crowd for some jokes,  he had noticed that there were kids around and held back on the green japes. Red Foo also touched their mid-tempo beats Get Crazy and Lil' Hipster Girl in order to cool the audience down and prepare them for the big hits. I'm In Miami Bitch took the party night to a totally different level.  The Party Rock Crew came out and drove the audience even crazier with more dancing and singing.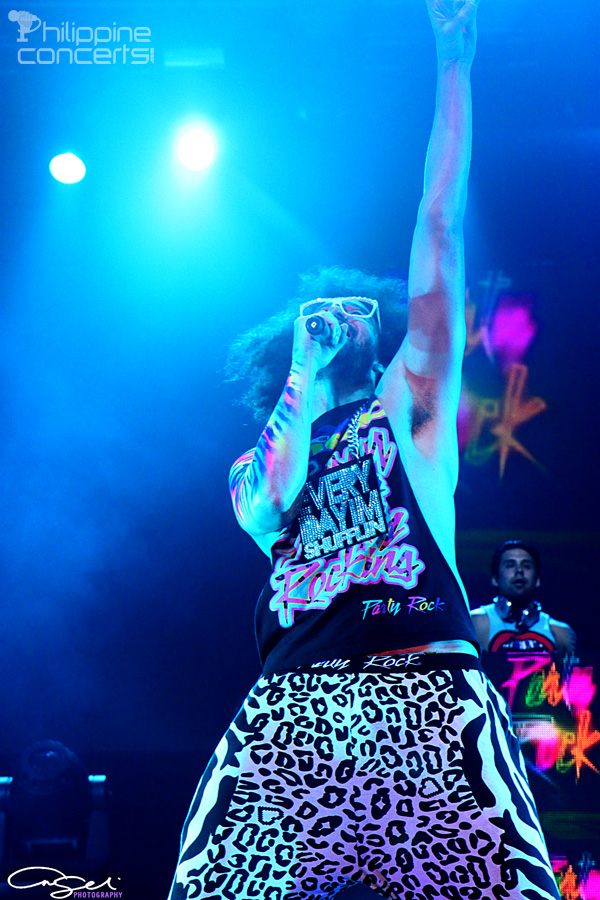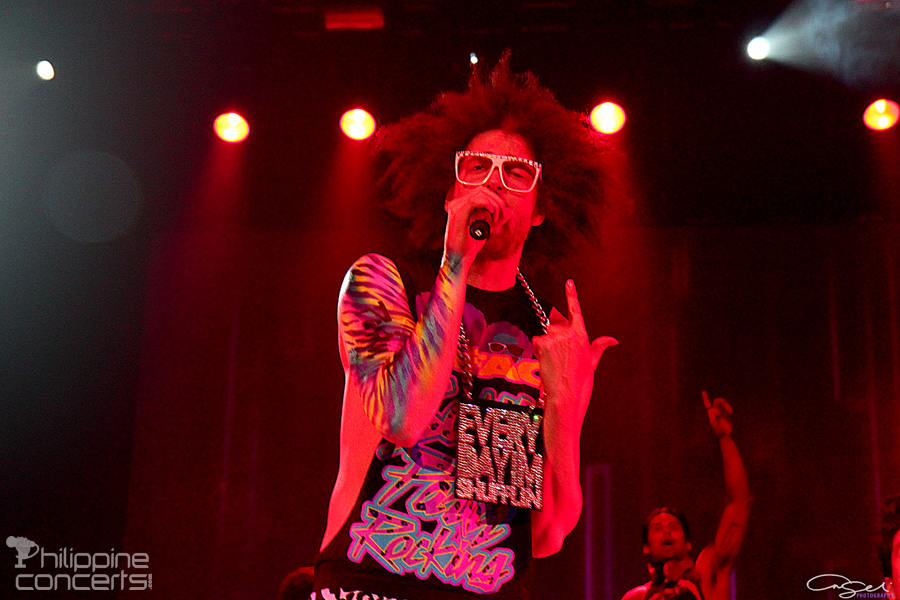 The set included their collaboration song with David Guetta, Getting Over You and a surprise Boom Boom Pow remix originally by the Black Eyed Peas. I knew that the show far from over because LMFAO had yet to bust our their biggest hits Party Rock Anthem and Sexy and I Know It which the crowd shouted out for from the beginning of the show. It was not until Champagne Showers brought a different ambiance, wherein the Quest Crew and Red Foo splashed champagne and beer onstage. It was my first time to see such a hilarious and unbeatable amount of fun in a concert, everything fit perfectly. Despite the all-out wildness in the audience, there were no noted incidents thanks to the venue's crowd control.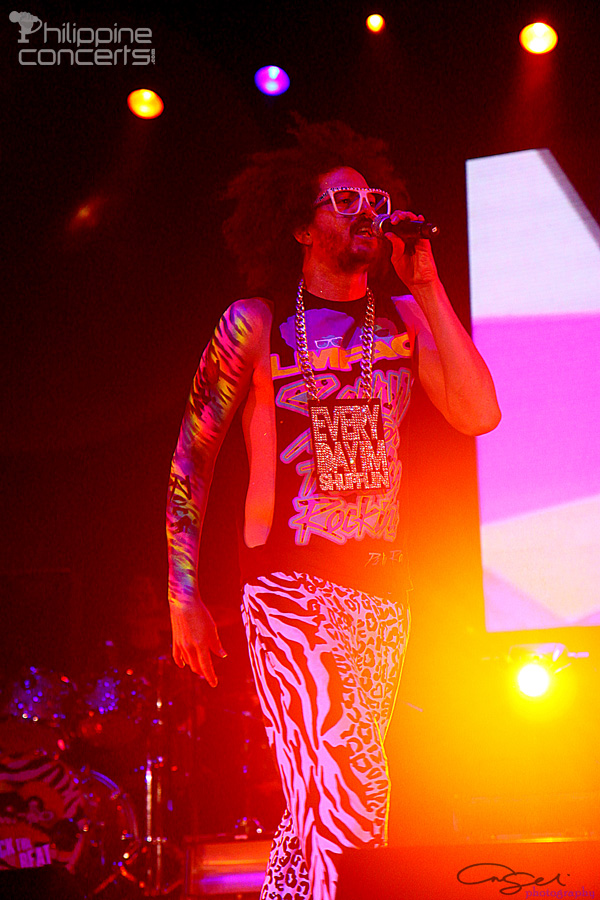 Party Rock Anthem made a big impact as the crowd danced along just like in LMFAO's music video. Everyone got up and did the famous Shuffle, singing along and having fun. They closed the show with Sexy And I Know It wherein all the boys onstage were wearing speedo trunks while singing, playing and running around. They left the stage to deafening cheers after thanking the audience for making Wednesday night into a Saturday live all out party.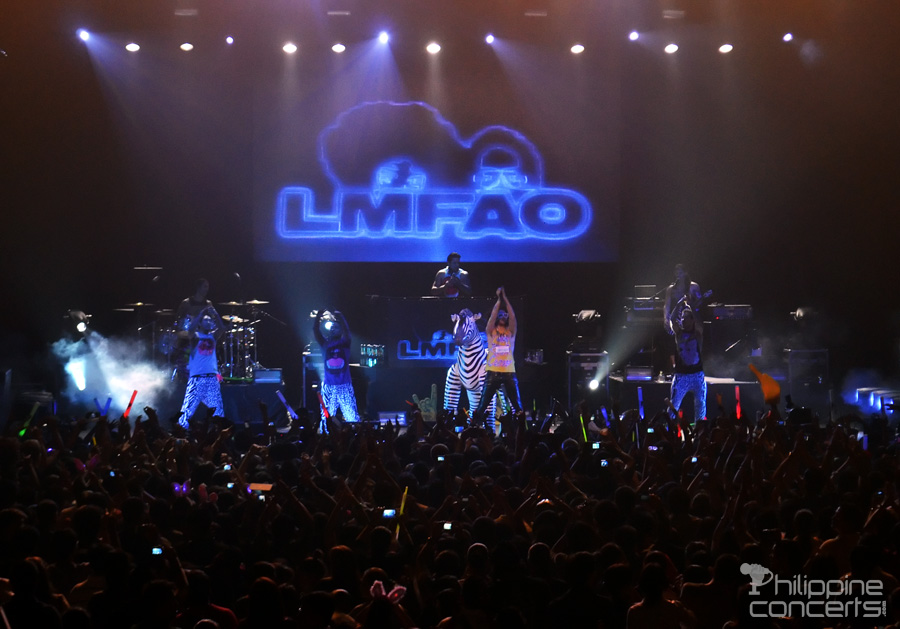 Overall, the concert was very entertaining without a single dull moment.  Even though Sky Blu was missing in action, Red Foo and the Party Rock Crew put up a great effort to keep party rocking. Concert-goers were treated to a concert party like no other that was full of energy, Party Rockers and an overall electro-dance concert production that made up for Sky Blu's absence.
Sorry For Party Rocking Tour: LMFAO live in Manila was presented by DAYLY ENTERTAINMENT and MIDAS PROMOTIONS
Upcoming events from @dayly_ent
William Beckett, There For Tomorrow and Every Avenue (June 12, 2012)
David Cook Live in Manila and Cebu ( July 14-15, 2012)
Snow Patrol Live in Manila ( August 9, 2012)
Sorry For Party Rocking Tour: LMFAO live in Manila Setlist
Rock The Beat ll
Sorry For Party Rocking
Get Crazy
Take It To the Hole
Put That A$$ To Work
I'm in Miami Bitch
Gettin' Over You
(David Guetta cover)
Boom Boom Pow
(The Black Eyed Peas cover) (Remix)
Shooting Star
(David Rush cover)
Reminds Me of You
I Am Not a Whore
One Day
Yes
Shots
Encore:
Party Rock Anthem
Champagne Showers
Encore 2:
Sexy and I Know It
Party Rock Anthem
(Remix)
Sexy and I Know It
(Remix)
Photos by Angeli Nasser
Written by Cent Sulit
Edited by Carla Barretto
Tags LMFAOLMFAO concert photoslmfao concert pictureslmfao live in manilalmfao live in manila photosLMFAO live in Manila Setlistsmart araneta coliseum concertsSorry for Party Rocking tourSorry For Party Rocking Tour: LMFAO live in Manila
Get the Latest Concert Updates