One Ok Rock Reaches New Heights with Ambitions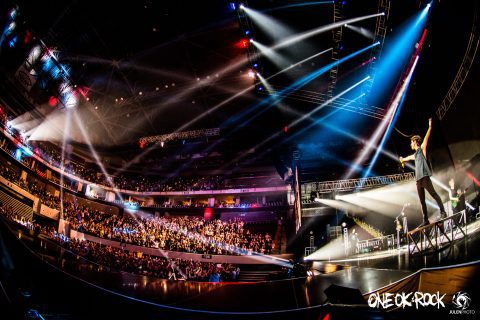 Anyone who has ever seen One Ok Rock live would agree – they are phenomenal. Their showmanship is incredible, much so that when the concert ends, you find yourself hoping for the next one to roll in quick. And that's exactly what The Ambitions Asia Tour Live in Manila made us feel.

The Japanese quartet returned to Manila two years since their sold-out XXXV Tour in January 2016. In that time, they've logged quite the list of achievements: bassist Ryota and drummer Tomoya have gotten married and welcomed fatherhood, they've signed a record deal with American label Fueled by Ramen, released Ambitions which is their eighth studio album, and is now on a world tour concurrent with the album.
Their intention was clear the moment the lights turned purple as they entered the stage – there was going to be no chill. The night opened with "Bombs Away" followed by the chart-topping "Deeper Deeper". A sea of red and yellow lights filled up the Arena during "Wherever You Are" and "We Are" while the crowd sang like a practiced choir. Personally, my favorite moment was when Taka knelt at the end of the ramp and took a moment to appreciate the turnout, as he does at every stop of the tour. Regardless of venue and audience size, the band makes it a point to show that everyone is appreciated.
The thing with One Ok Rock is they give as much as they receive. The band and the audience were bursting with energy, and neither would cave in. When vocalist Taka asks for screams, the audience roars. When they count to three for a jump, even the upper box heeds. Just one overhead clap and everyone gets the signal to follow suit. There were even small mosh pits on different sections of the venue during "Mighty Long Fall", as requested. The guys reward the fans equally with a fiery performance, running around to reach every corner of the stage.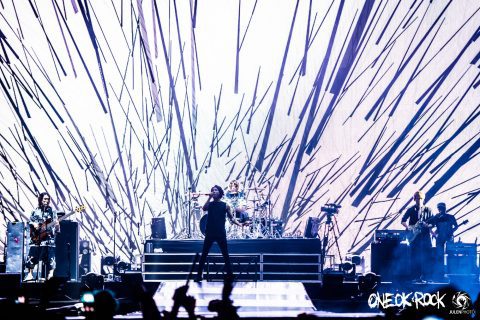 Taka was a powerhouse vocalist, hitting every note even while he ran, leapt, headbanged, and danced. His voice shined through especially during "Take What You Want," with sparse instruments in the beginning and, after a good minute of waiting for the crowd to fall to complete silence, resumed singing acapella. Tomoya commandeered the drums with machine-like precision and the horsepower of a madman. He had an arresting presence even though he was unable to move around like his mates. Toru was practically married to his guitars. He made love to it – made it weep, screech, and whistle with every strum. The aggressive bassline courtesy of Ryota made pulses quicken from beginning to end. He meant business everytime he entered into his signature stance – legs wide apart with one knee bent.
It's a common case for listeners to only know the singer of the band and not remember everyone else. That is not the case with One Ok Rock. Everyone owned the stage and went hard at it. The instrumental opening during "Bedroom Warfare" showed how lethal the three instrumentalists are, individually and together.
In 2016, the band promised to return soon, and they did solid on that last Monday. The same promise was made at the end of this concert. No one knows when that will be, but we're already here for it.
Special thanks to Pulp Live World
Words by Marijo Endriga
Photo by @julenphoto
Tags ONE OK ROCK AmbitionsONE OK ROCK concert reviewsone ok rock live in manilapulp live world
Get the Latest Concert Updates