David Archuleta live in Manila 2017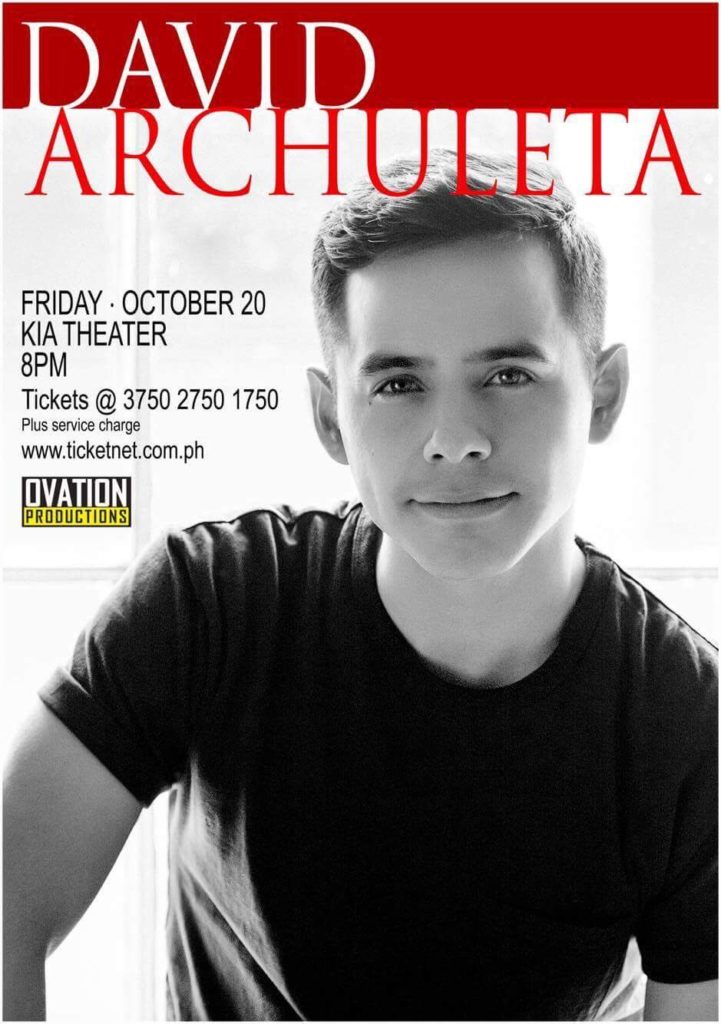 David Archuleta live in Manila on October 20, 2017 at the KIA Theatre. Tickets available at ticketnet.com.ph and outlets starting September 8 at 10am.
Ticket Prices:
P3750
P2750
P1750
With budding maturity, David Archuletacaptures two years' worth of introspection and reflection in The Other Side of Down. His latest pop album is the culmination of dozens of songwriting sessions, long days spent in the studio and nights in the air.
It is a follow-up to David's 2008 self-titled platinum debut, which saw him work with established songwriters Iike JC Chasez, Jimmy Harry and Eman Kiriakou.
Not only that, it is a reintroduction to the Season 7 American Idol runner-up with the angelic voice whom 30 million television viewers fell in love with, and whose masterful performance of John Lennon's Imagine captivated audiences world-wide.
Now however, an older, wiser David has emerged, but with faith still on his side and an eternally optimistic wide-eyed outlook. Hence, his latest album's title. "For me, it's about moving forward and making progress," David explains. "I'm heading towards 'the other side of down', which is 'up'."
Born David James Archuleta on December 28, 1990, in Miami, Florida to Jeff, a jazz musician from Utah and Lupe, a salsa dancer and singer from Honduras, David was exposed to diverse music genres growing up in Utah, from Latin music on his mother's side to jazz music from his father's collection. He was particularly fond of and inspired by gospel, pop, R&B and "soulful" music, as well as Broadway musicals.
Barely after Idol, David saw massive success straight out the gate with his first lead single Crush, a catchy pop tune about unrequited teenage love written by Emanuel Kiriakou, David Hodges and Jess Cates, which charted at No. 2 on the Billboard Hot 100 and has since sold two milliondownloads.
His sophomore album, a record entitled Christmas From The Heart, reflects his love for the holiday season and debuted at #2 on Billboard's Holiday Albums in late 2009.
"For me, Christmas music has always been such a big time in my life," David recounts.* A year later saw him singing with the prestigious Mormon Tabernacle Choir at their Christmas extravaganza, which earned him rave reviews.
David has toured extensively across the United States, the United Kingdom and Asia to perform for fans. His current eclectic musical inspirations run the pop-rock gamut, from acoustic guitar-driven singer-songwriters like Jason Mraz to the electronic sounds of female innovators like Imogen Heap and A Fine Frenzy. "It's amazing how one song can change someone's life," says David. "It's been done for me so many times and I want to give to my fans the same thing those artists have given me."
By Ovation Productions
Tags David Archuleta Concert 2017David Archuleta Manila 2017david archuleta ticket pricesovation productions
Get the Latest Concert Updates