The Bootleg Beatles return to Philippines
Concert tour to feature special 'White Album' section.
The Bootleg Beatles are delighted to be returning to the Philippines in September 2018. These dates will feature a
special segment marking the 50t h anniversary of the iconic 'White Album'. The band will re-visit Manila and Cebu,
with added shows to new venues in San Fernando Pampanga and Santa Rosa Laguna.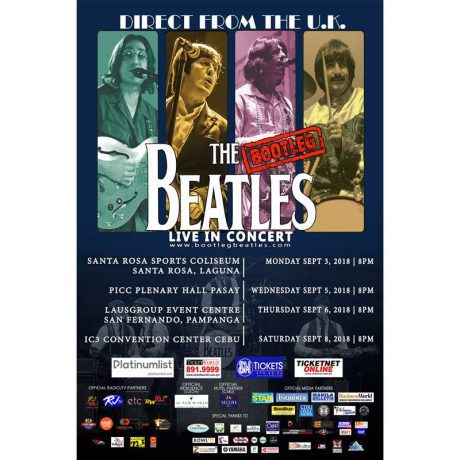 As ever, the band will perform favourites from the whole Beatles' catalogue but will also bring a special focus onto some key tracks from the 'White Album' playing many of them for the very first time! As well as some of the
best-known classics, the band will also be taking on more obscure tracks in an attempt to bring to life the breadth and depth of this incredible LP. The 'White Album' is in many ways a counterpoint to 'Sgt. Pepper' and not only in terms of the totally contrasting route taken on artwork. Though it drew from a broad span of influences, the 'White Album' was created with a sparser sonic palette that saw song arrangements significantly stripped back. This album, released 22 November 1968, also saw the band to a larger degree working independently of each other in their own creative niches.
Formed from the original cast of London's West End hit show 'Beatlemania', The Bootleg Beatles have become 'an
institution' in their own right with their note-perfect recreation of hits from every era of the world's most famous songbook. Since their inception in 1980 the band have performed hundreds of gigs across the globe, earning
themselves an amazing reputation along the way. Every tiny detail is meticulously covered from costumes to authentic period instruments; from their witty 'Liverpudlian' banter to their 'inflection perfect' vocal mimicry. But it's not only their sound that is so authentic; they bear an uncanny resemblance to the Fab Four.
As one reviewer recently said… "It's not John Paul George and Ringo … but you simply won't believe it".
Said of the Bootleg Beatles:
"You probably know the chords better than I do!" – George Harrison
"I'm gonna come to your next gig and heckle ya!" – Sir Paul McCartney
"I enjoyed their show enormously" – Sir George Martin
The band has performed over 4000 shows worldwide, including The Royal Albert Hall, Buckingham Palace,
Wembley Stadium, Hyde Park, Budokan Stadium Tokyo, and of course, Philippines own Araneta Coliseum
Dates and venues include:
Monday 03 September 8pm/ Santa Rosa Sports Coliseum, Sta Rosa Laguna
Wednesday 05 September 8pm/ PICC Plenary Hall, Pasay
Thursday 06 September 8pm/ LausGroup Event Centre, San Fernando Pampanga
Saturday 08 September 8pm/ IC3 Convention Center, Cebu
Tickets are available now at ticketworld.com.ph, smtickets.com, ticketnet.com.ph, platinumlist.net
Sponsors include: Official Luzon Residence — AG New World Hotel; Official Cebu Hotel Partner — Mezzo Hotel;
Official radio/TV/media partners — ETC, RJTV, RJ100, 105.1 Crossover, Wish 107.5, 97.9 Home Radio, RW 95.1FM,
Retro, eRadio, Bitstop Network Services, Y101FM, 96.3 WRock Cebu, Magic 92.3, 97.9 Love Radio Cebu, The
Philippine Star, Philippine Daily Inquirer, Manila Bulletin, Business World, SunStar, Cebu Daily News, When In Manila, Manila Concert Scene, Philippineconcerts.com; Casino Filipino Cebu, PAGCOR, Cebu Waterfront Hotel, Microtel by Wyndham, OAAP, DOOH / Digital Out-of-Home Philippines, Grandeur Signage Systems, StrongMedia, Prime Recall,
Alcordo Advertising, ABN Dreamworks, Omega Pro, Ken Printshoppe Graphics & Design, MaxiOne Production, 10inch
Lights & Sounds, Uma Uma, Bowl'd, TGIFridays, The Social, Leylam, J Centre Mall Gaisano Country Mall, Zoomanity
Group, Yamaha Music.
Get the Latest Concert Updates