Talk N Txt and Vivo brings you The Unstoppable Force that is Darren Espanto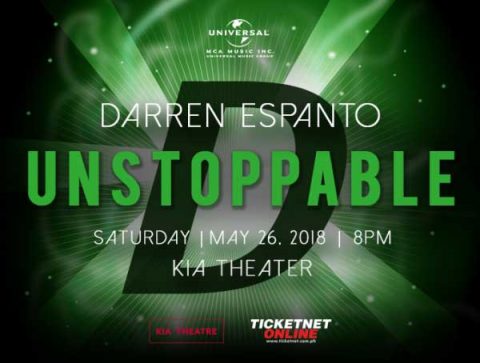 You'd think that after numerous accolades, awards and momentous highlights in his career that the country's most incendiary young singer DARREN ESPANTO could relax and enjoy his laurels even for a brief moment… dubbed as the Philippines' "Total Performer," one might even say he's sitting comfortably at the top of the music game and no one comes even close to taking the throne.

But like all greats, there's always a reason to keep moving forward – and this time, Espanto strives even harder to further heighten his position and solidify himself in the annals of local music history by pushing further the boundaries of both musical skill and success with his upcoming show simply dubbed as UNSTOPPABLE.
Happening this May 26th (Saturday) 8pm at the famed KIA Theater, fans – both old and new – will witness first-hand how Espanto is the musical juggernaut that will make anyone and everyone a believer… Under the incendiary musical direction of Nikko Rivera, and directed by none other than Paolo Valenciano, Unstoppable promises to be the absolute show-stopper of the year 2018. Aside from Espanto, the show will feature a myriad of the biggest names in the pop world: fellow rising stars Jayda Avanzado, Kyle Echarri and AC Bonifacio, the legendary dance group Manoeuvres Ignite (who are guaranteed to get audiences moving alongside Espanto…), and a powerhouse performance Philippines' R&B/Soul Queen Kyla.
And despite the recent news of Mr. Pure Energy's Gary Valenciano's undergoing of emergency heart surgery – which unfortunately led him to cancel his appearance at Unstoppable for him to be able to fully recover (…which in Valenciano's words was "unfortunate because I was looking forward to the show so much…"), the show is pulling-out all the stops as none other than the legendary Concert King Martin Nievera will be there to rightfully fill the proverbial gigantic shoes of one of the country's biggest veteran performers.
Tickets are on sale now through Ticketnet Online, but they're going fast!
Unstoppable is produced by MCA Music, presented by Talk N Txt and Vivo, and supported by Jollibee and Metro Dental.
Get the Latest Concert Updates