iKON Continue Tour in Manila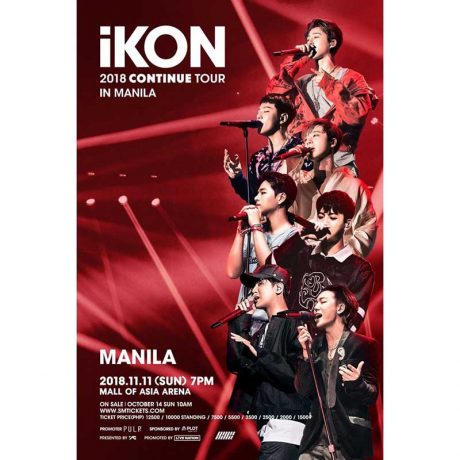 Being one of the most requested idols to visit the country, brought to you and presented by Pulp Live World, titled "Continue Tour in Manila 2018". iKON is finally set for their very first solo concert in the Philippines this November 11, 2018, Sunday at the Mall of Asia Arena. Members B.I., Bobby, Jinhwan, Ju-ne, Chanwoo, Yunhyeong, Donghyuk are bringing a grand night for all Filipino fans as they perform their hit tracks, "Return", "Welcome Back", and more!

iKON were formed in 2015 by YG Entertainment after surviving the reality show WIN: Who Is Next. There are seven members of iKON: B.I, Bobby, Jay, Ju-ne, Song, DK and Chan. B.I is the leader of the group, Bobby is the main rapper and Jay is the lead singer. On stage, the iKON members delights the crowd through amazing dance choreography and passionate performances of their hits.
iKON released their first studio album Welcome Back in December 2015 which sold over fifty thousand copies in its first month of release. With singles such as "My Type" and "Airplanes", the boy band managed to top the charts in South Korea, Japan, Taiwan and even the United States. The album includes a total of eleven tracks, seven of which have been released as singles. This record has it all, it has pop, hip-hop and dance songs, so you will definitely not get tired of iKON's first record.
Having combined so many different genres has made iKON become one of the most successful K-Pop bands of recent times. The 2017 series album New Kids followed by iKON's second studio album, Return (2018), shot the K-pop group back up the charts and even peaking at no. 1 with the song "Love Scenario". With amazing collaboration with other artists like Psy and BIGBANG, the album fell nothing short of iKON fan's expectations.
Awards and recognitions continued pouring in for this powerful group. They have also received Best New Artist at the 2016 Japan Golden Disc Award. This was followed by an "Album of the Year" award at QQ Music Awards in the same year for their "Welcome Back" album. Having multiple awards immediately after their debut, iKON was soon recognized as "Power Rookies" in 2016. They are also the first KPop group in 8 years who has achieved the title "Rookie Grand Slam".
Seeing iKON in concert is an event not to be missed so, don't delay, get your hands on iKON tickets today!
Get the Latest Concert Updates