Big Bang's Seungri to Spin at Cove Manila with DJs Glory and TPA on June 2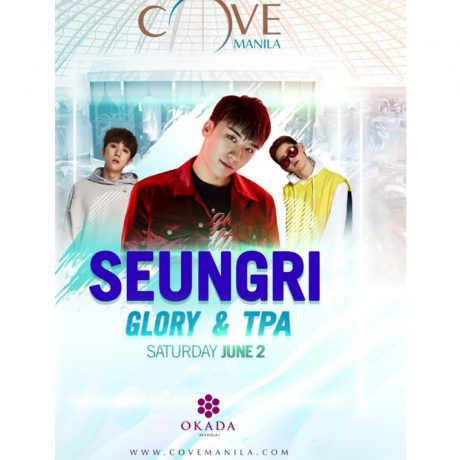 Cove Manila continues to bring in a diversity of top acts from across the globe including Zedd, Diplo, Steve Aoki, Keri Hilson, and Nelly. On June 2, Seungri, the maknae of legendary K-Pop group, Big Bang, is returning to the Philippines to spin at Cove Manila. This time, Seungri will showcase his skills behind the DJ booth, accompanied by DJs TPA and Glory from his very own electronic music label, Natural High Records.
Fully equipped with advanced audio, video, and lighting systems, Cove Manila's 9000-square-meter space houses a luxurious nightclub and beach club set against the famed Manila Bay horizon; capped by a 30-meter-tall, column-free, UV protected glass dome.
Born Lee Seung Hyun, Seungri debuted with Big Bang in 2006, quickly winning the hearts of fans across the globe with a long list of hits such as "Lies" (2007), "Haru Haru" (2008), "Love Song" (2011), "Fantastic Baby" (2012), and "Last Dance" (2016). Big Bang broke barriers for K-pop groups in the global music scene including being the first artists to win the Best Worldwide Act award at the 2011 MTV Europe Music Awards. Their 2012 album, Alive, was the first Korean album to chart on the Billboard 200. As a solo artist, Seungri has released one full-length Japanese studio album, and two EPs, V.V.I.P. and Let's Talk About Love, both of which topped Korean music charts.
Natural High DJs Glory and TPA will share the booth with Seungri on June 2. Both are in-demand DJs from South Korea. DJ Glory is best known as the resident DJ of popular clubs in Seoul, and has also performed in Hong Kong, Japan, and China. TPA released a collaboration featuring Seungri, Al Rocco, and Ivy, called "Combo" in March 2018.
Get ready to dance to the beats of your favorite Big Bang oppa! Tickets start at Php 1,000, and doors open 10:30pm.
For more information, visit covemanila.com, an
Get the Latest Concert Updates