Super Pop Con 2017
Filipino KPop fans will be thrilled to know that Super Pop Con Ph 2017 is set to bring some of the biggest acts from South Korea in the country this coming July.
Super Pop Con 2017 on July 7, 2017 at the Mall of Asia Arena feauring B1A4, B.A.P, BTOB, VIXX, Pentagon, BIG and KRIESHA.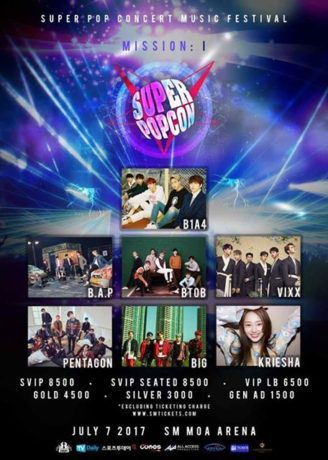 Ticket Prices:
SVIP – P8925
VIP – P6825
Gold – P4725
Silver – P3150
Gen Ad – P1575
Tickets now available at SM Ticket Outlets or online at smtickets.com
It's not even half of the year and more exciting surprises are coming for Filipino K-Pop fans across the country. This July, experience a one of a kind K-Pop show that's heart stopping andsuper action packed as KIRIN, in partnership with LUMOS E&M and All Access Productionsbring you another K-Pop concert that you will never forget.
Mission I: Super Pop Con 2017 is happening on July 7, 2017 at the SM Mall of Asia Arena. This show brings some of the hottest K-Pop groups in one super event, including B1A4, B.A.P, BTOB, Pentagon & VIXX.
This event is brought to you by KIRIN, who is currently working on a special project with the local party – PDP Laban, in creating more awareness on drug rehabilitation through creating free rehabilitation & renewal centers across the country. This event will help spread awareness on this cause and making this event more than just a super K-Pop concert.
To know more about this exciting event, make sure to following All Access Productions on these social media sites:
Facebook: https://www.facebook.com/ AllAccessProdPH/
Twitter: @allaccessprodph
Instagram: @allaccessproduction
Website: www.allaccessproduction.ph
Tags 2017 concertsb1a4 live in manilabap live in manilabtob live in manilajuly 2017 concertskpop concerts 2017pentagon live in manilasm ticketssuper popconvixx live in manila
Get the Latest Concert Updates