Sarah Geronimo Live in Pampanga
Sarah Geronimo The Great Unknown Concert on June 30, 2017, 8PM at Laus Group Event Centre in San Fernando, Pampanga.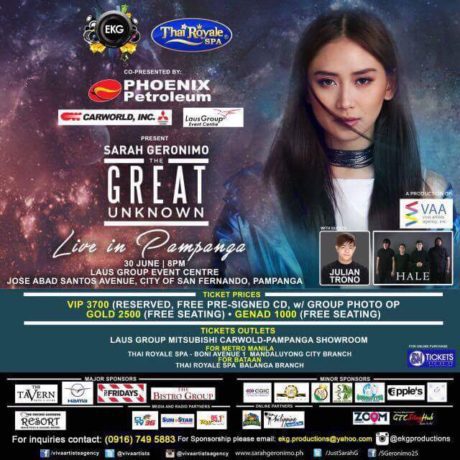 Catch the Popstar Royalty as she invades North Luzon this June 30, 2017! An unforgettable performance from the Royalty that proved the greatness of OPM, and of the "unknown" will hit Pampanga this 2017!
Ticket prices:
VIP – P3700 (reserved seating, FREE pre-signed CD, With group Photo Op)
GOLD – P2500 (free seating)
GEN AD – P1,000 (free seating)
BUY YOUR TICKETS at the ff:
Pampanga:
* Laus Group Mitsubishi Carworld-Pampanga Showroom, San Fernando, Pampanga
Bataan:
*Thai Royale Spa Capitol Balanga Branch
Metro Manila:
* Thai Royale Spa Boni Avenue I Mandaluyong (near City hall)
Online:
* SM Tickets (VIP not available here)
A few VIP tickets left! Hurry & buy your tickets now!
FOR INQUIRIES, YOU MAY ALSO CALL EKG PRODUCTIONS AT 09167495883.
FOR SPONSORSHIP, please email to: [email protected]
We'll see you all there Popsters!💕
Tags 2017 concertsjune 2017 concertssarah geronimosarah geronimo concert 2017sarah geronimo pampanga concertsm tickets
Get the Latest Concert Updates