Arnel Pineda: The 50th Birthday Concert
Arnel Pineda: The 50th Birthday Concert on September 5, 2017 at Okada Manila Grand Ballroom presented by UPNORTH Productions.
Tickets now available at ticketworld.com.ph/arnelpineda50th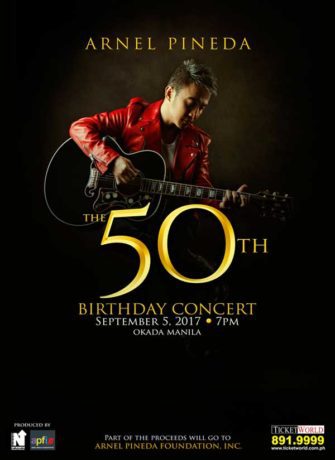 Partake in a heartfelt celebration of Arnel Pineda's colorful life as he turns 50. The Filipino rockstar is marking his golden year with an intimate birthday dinner show at Okada Manila, where he will be singing the songs of his life. The night's setlist follows Arnel's life story, from his beginnings in local bands to conquering the world stage as frontman of the legendary Journey. The artist will delight the audience with renditions of his personal favorites and original compositions. Surprise performances await both the audience and the artist himself. With acclaimed video and event director Paul Basinillo at the helm, the night will surely create lasting impressions for those in attendance.
Ticket Prices:
P6,000
Buy your Tickets now at ticketworld.com.ph/arnelpineda50th
Tags 2017 concertsarnel pinedaarnel pineda concertokada manilaseptember 2017 concertsticketworldup north productions
Get the Latest Concert Updates