Aegis Live at Resorts World Manila
Aegis Live! Birit Pa More on December 20, 2017 at the Newport Performing Arts Theater, Resorts World Manila.
Tickets available at ticketworld.com.ph/aegislive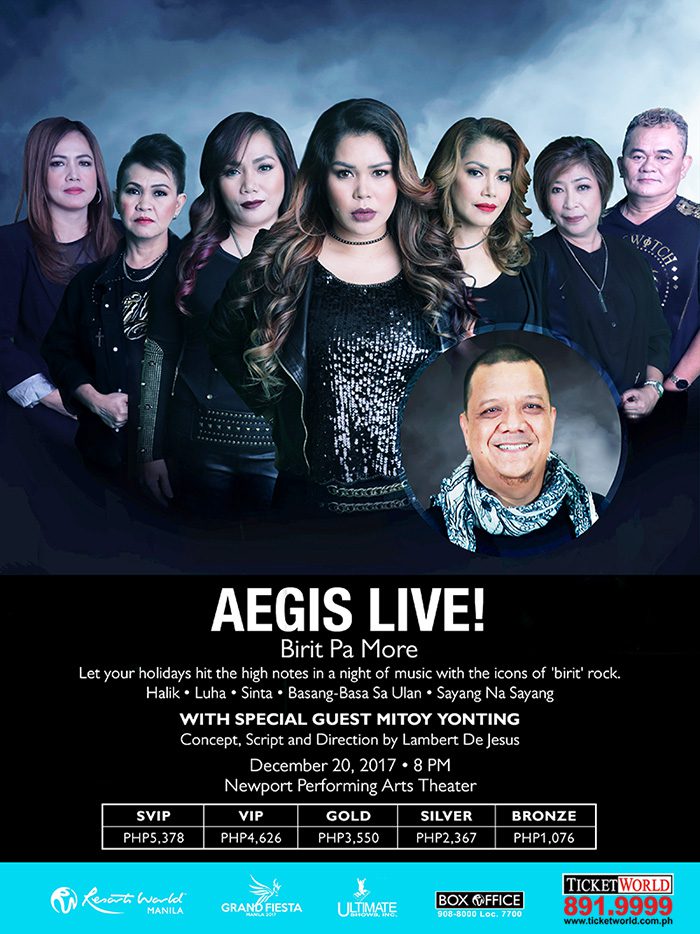 Ticket Prices:
SVIP – P5,378
VIP – P4,626
Gold – P3,550
Silver – P2,367
Bronze – P1,076
Buy your Tickets now at ticketworld.com.ph/aegislive
Formed during the 90"s, Aegis started as a Filipino "Show Band" performing mostly in the club circuits in Japan. The group is made up of siblings Juliet and Kris Sunot and other members, namely Rey Abenoja, Stella Pabico, Rowena Pin-pin and Vilma Goloviogo. Aegis became a household name among Filipinos both here and abroad because of their patented "Birit" style of singing that has been heard in such hit songs like HALIK, LUHA, ULAN as well as many other hits..
Tags 2017 concertsaegis concert 2017aegis concert 2017 ticket pricesaegis livedecember 2017 concertsresorts world manilaticketworld
Get the Latest Concert Updates