Wild Kard Live in Manila 2018
Wild Kard Live in Manila on February 9, 2018 at the Kia Theatre presented by MyMusicTaste.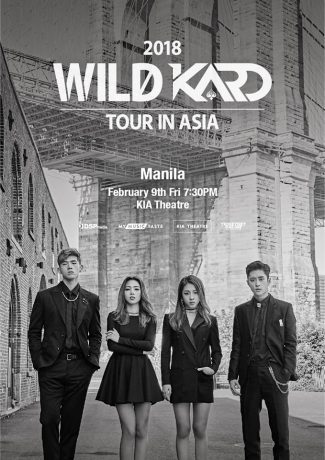 Topping charts and touring internationally before their official debut, co-ed group KARD is one of the most popular rookie groups of 2017. The talented group finally made their debut this past July and have already proven their global popularity by touring North America, South America, and Europe. 2018 WILD KARD TOUR IN MANILA will be jam-packed with powerful performances from their latest album, interactive games, and a Q&A session, allowing KARD to get up close and personal with their fans in a much more intimate setting.
Ticket Prices:
VIP 1 – P6,890
VIP 2 – P4,880
Orchestra = P2,440
Tickets available at Ticketnet Outlets or online at ticketnet.com.ph
Tags 2018 concersfebruary 2018 concertskia theatremymusictastewild kard live in manilawild kard manila concert 2018
Get the Latest Concert Updates