Village People Live in Manila 2017
Village People Live in Manila on Sunday, May 14 at the KIA Theater to celebrate their 40th Anniversary Tour presented by Zaccaria Concerts. With special guest the World's #1 ABBA Experience – Björn Again.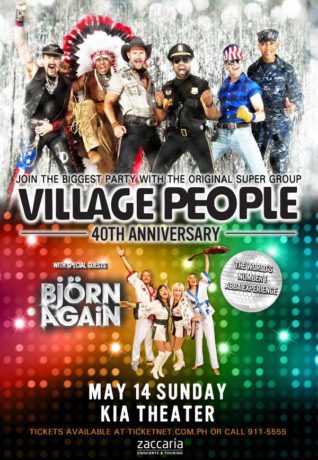 Having sold more than 100 million recordings, Village People were an unstoppable force in the 70's and 80's. Their characters and classic hits will forever be ingrained in the fabric of pop culture. Originally formed in 1977 by French Music composer Jacques Morali, the Village People quickly became an instant phenomenon, with chart-topping hits such as San Francisco, Macho Man, Y.M.C.A, In the Navy, Go West, Can't Stop the Music and more. Their impact and influence on music have earned them the title of "Kings of Disco" as well as a prestigious star on the coveted Hollywood Walk of Fame. The group has won many international awards including the American Music Award for Favorite Musical Group in 1979, AGVA's Georgie Award, West Germany's Gold Lion Award for music excellence and Brazil's 1981 Award for Best Act.
Ticket Prices:
To be posted soon!
Tickets go on-sale on March 15 via TicketNet.com.ph or call 911-5555.
Tags 2017 concertsbjorn again live in manilamay 2017 concertsticketnetvillage people at kia theatrevillage people live in manilavillage people manila concert 2017zaccaria concerts
Get the Latest Concert Updates