Park Shin Hye live in Manila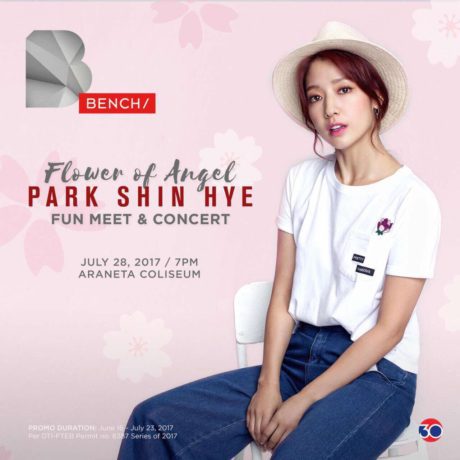 Korean superstar Park Shin Hye is coming back to Manila for a fun meet & concert on July 28, 2017 at the Araneta Coliseum.
MECHANICS:
1. Get 1 free invite to the Park Shin Hye Concert for a minimum single receipt purchase worth of Bench Herbench,or any Bench Body items
P500.00 for ONE (1)UPPER BOX ticket
P950.00 for ONE (1) LOWER BOX ticket
P1800.00 for ONE (1) PATRON BOX ticket
Concert Ticket Details: 28 July 2017, 7 PM, Araneta, Coliseum
2. A maximum number of 3 invitations per single receipt is allowed; and combinations of invites are allowed.
3. Valid for purchasing using Cash /Credit Card / Debit Card, Gift Checks, Employee's PO, Sodexo, Lifestyle Passes, Lifestyle Card Points Redemption.
4. Promo may not overlap with other in-store promotions.
5. Lifrstyle Cardholders can still earn points.
6. Invitations must be exchanged for actual ticket at the Araneta ticket booth on the day of the event.
7.Bench / Suyen Corporation will not shoulder any airfare / transportationexpenses.
8.Bench/ Suyen Corporation and Araneta reserve the right to deny entry if ticket bearer is proven to be under the influence of drugs, alcohol or displaying misbehavior.
PROMO DURATION: June 16- July 23, 2017.
Presented by Wilbros Live and Bench
Get the Latest Concert Updates