Mayday Parade Live in Manila 2017
Mayday Parade Live in Manila on October 7, 2017 at Kia Theater, Cubao, Quezon City. Mayday Parade Live In Manila: A Lesson In Romantics 10th Anniversary Tour is presented by Pulp Live World.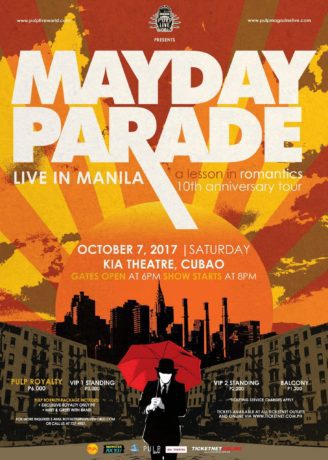 Mayday Parade is an American pop punk band from Tallahassee, Florida composed of Jake Bundrick (drums, percussion, vocals), Brooks Betts (rhythm guitar), Alex Garcia (lead guitar), Jeremy Lenzo (bass guitar, backing vocals) and Derek Sanders (lead vocals, piano).
Ticket Prices:
Royalty Pit – P6,360 (Exclusive Royalty Only Pit, Meet and Greet)
VIP 1 Standing – P3,180
VIP 2 Standing – P2,335
Balcony – P1,275
Tickets available now at Ticketnet Outlets or online at ticketnet.com.ph
For PULP Royalty privileges, e-mail [email protected] or call 727-4957.
Tags kia theatre at araneta centermayday parade at kia theatremayday parade live in manilamayday parade manila concert 2017pulp live worldpulp royaltyticketnet
Get the Latest Concert Updates