Kehlani Live in Manila 2018
Kehlani Live in Manila on May 25, 2018 at The Island at The Palace presented by MyMusicTaste.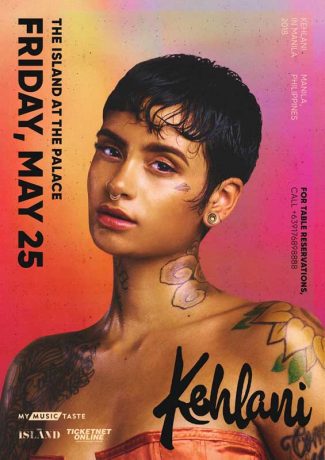 Grammy-nominated singer/songwriter Kehlani is performing at The Island at The Palace on May 25!
Ticket Details:
GA – P2,650
Tickets available at Ticketnet Outlets or online at ticketnet.com.ph
For table reservations contact 0917 689 8888

Those who request Kehlani's Manila concert on MyMusicTaste by 23:59 on Sunday, April 8, 2018, will have access to a
20% discount off two tickets. Further information about the tour and tickets can be found on http://mmt.fans/Fyst and MyMusicTaste's social media channels.

You Should Be Here – Kehlani

CRZY – Kehlani
Tags 2018 concertskehlani live in manilakehlani manila concert 2018may 2018 concertsmymusictastethe island at the palaceticketnet
Get the Latest Concert Updates