John Ford Coley Live in Sta. Rosa Cancelled
John Ford Coley Live in Sta. Rosa on August 11, 2018, 8pm at the Santa Rosa Sports Complex in Laguna also featuring Noel Cabangon presented by Ovation Productions.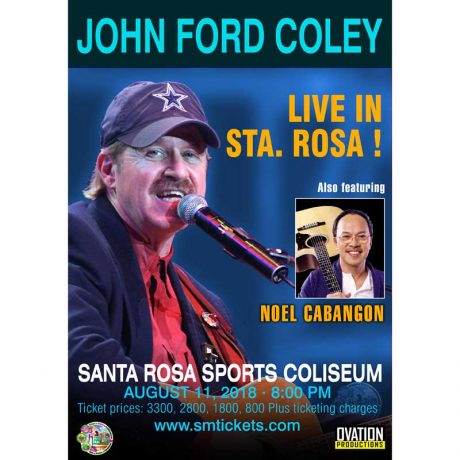 John is a classically trained pianist, guitarist, actor and author most known for his partnership in the musical duo England Dan & John Ford Coley.
Ticket Prices:
SVIP – P3,490
VIP – P2,960
LOWERBOX – P1,910
UPPERBOX – P850
Tickets now available at SM Ticket Outlets or online at smtickets.com
England Dan and John Coley classic hits which John continues to perform in his solo concerts include It's Sad To Belong, Soldier In The Rain, Gone Too Far, Love Is The Answer, What's Forever For, Broken Hearted Me, I'd Really Like to See You Tonight, Nights are Forever Without You, We'll Never Have to Say Goodbye Again, What Can I Do With this Broken Heart, Just Tell Me You Love Me. John also does great covers of The Bread's Make It With You, Dan Fogelberg's Longer and Leader of the Band, Dan Hill's Sometimes When We Touch, among many others. In his Santa Rosa Laguna concert, John Ford Coley will have popular OPM singer-songwriter Noel Cabangon as front act.
Tags 2018 concertsaugust 2018 concertsjohn ford coley live in manilajohn ford coley manila concert 2018noel cabangonovation productionssm tickets
Get the Latest Concert Updates