G-DRAGON 2017 W​ORLD TOUR (ACTIII, M.O.T.T.E) in Manila
YG Entertainment and IME Prod​uctions are bringing G-DRAGON to Manila, iconic KPOP solo artist and leader of Korea's most influential band, BIGBANG, will be returning with his first solo concert  "G-DRAGON 2017 WORLD TOUR <ACTIII, M.O.T.T.E>" on September 1 at Araneta Coliseum. Tickets will be available soon thru ticketnet.com.ph and Ticketnet outlets.
Kwon Ji-Yong, better known by his stage name G-DRAGON, is a South Korean rap​per, singer-songwriter, record producer, and fashion icon. After six years as a trainee under the record label YG Entertainment, G-DRAGON officially debuted as a member of the South Korean group BIGBANG. G-DRAGON has been involved with writing, composing, and producing many of BIGBANG's and his own hit tracks. As of 2017, he has written 22 songs that has topped the music charts.
He became the second member of BIGBANG to make a solo debut in Japan after his bandmate Daesung's solo concert tour. In 2013, he embarked on his first worldwide tour as a solo artist, which included a four-dome tour in Japan, making him the first Korean soloist to do a dome tour. Recognized as one of the most influential leaders in music and fashion in his country, G-DRAGON was named by Forbes Asia the Most Influential Person Under 30 in Eastern's Entertainment and Sports.
The tour, his second following the record-breaking One of a Kind tour in 2013, is described as a showcase of the "loneliness and anguish hidden behind the glamourous life from his massive success", said the YG website.
G-DRAGON 2017 WORLD TOUR< ACT Ⅲ, M.O.T.T.E> promises to be another mega performance. M.O.T.T.E. (母胎), the abbreviation for Moment Of Truth The End, will give insight into the truth hidden behind the glamorous life that G-DRAGON's massive success has brought him by exploring ACT III, the third phase of his career as he turns 30 this year.
Event: G-DRAGON 2017 WORLD TOUR <ACT III, M.O.T.T.E> IN MANILA
Event Date/Time: Sep 1 2017, 8PM
Venue: SMART ARANETA COLISEUM
Ticket Categories: VIP (Standing/Seated) PHP13,000, CAT 1 (Standing/Seated) PHP10,000, CAT 2 (Seated) PHP8,500, CAT 3 (Seated) PHP6,500, CAT 4 (GA) PHP3,500.
Ticket On-Sale Date: 5 August 2017, 12PM
Ticketing Website: www.ticketnet.com.ph
VIP PACKAGE
All VIP Ticket Holders will be entitled to the VIP Package which includes:
– Sound Check Pass (Details of the Sound Check will be announced at a later date.)
– An exclusive Lanyard with ID Tag
– 1 item of Merchandise (Item will be disclosed at a later date)
– Official Tour Poster
ALL CAT 1 and CAT 2 ticket holders will also be entitled to an Official Tour Poster.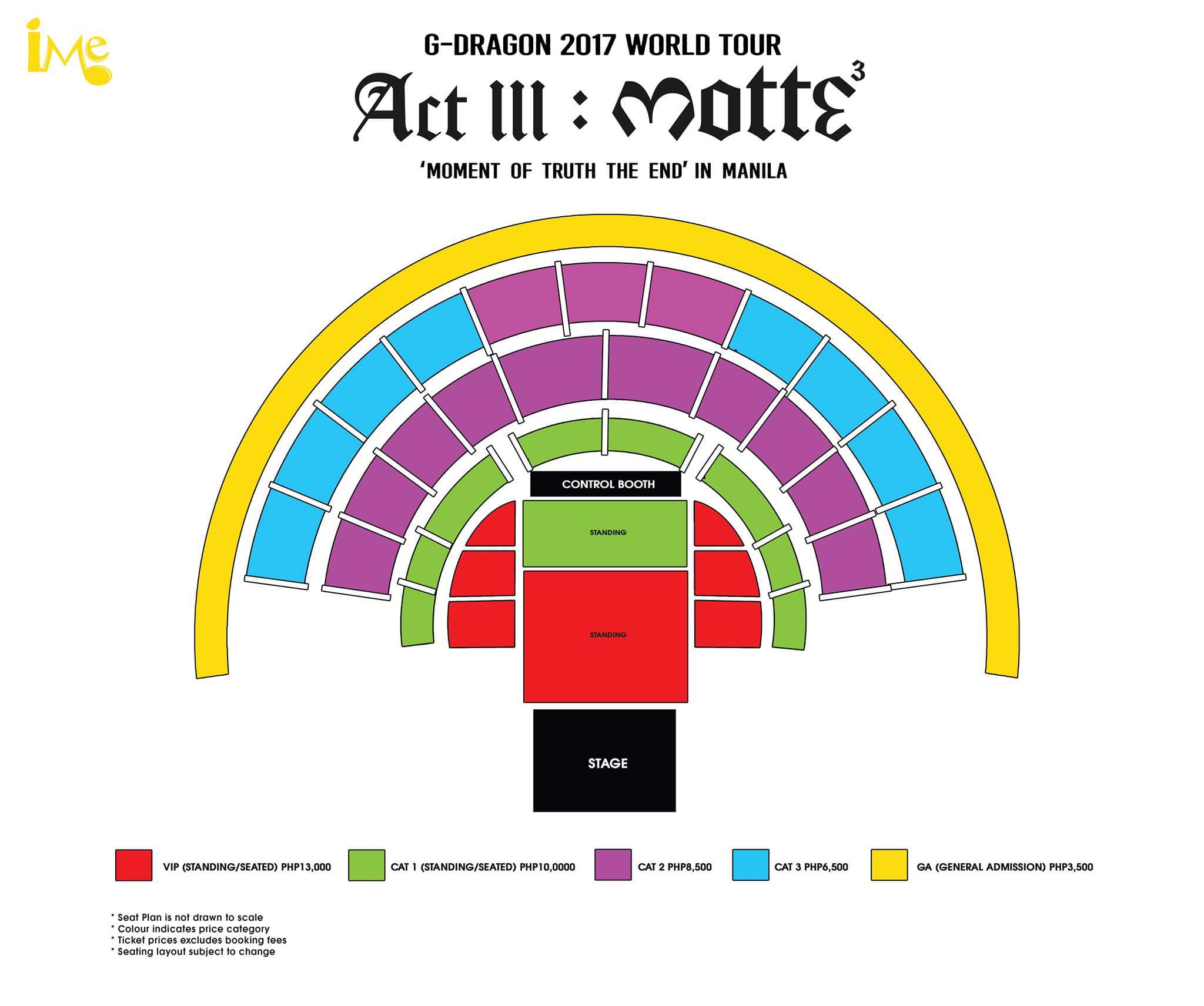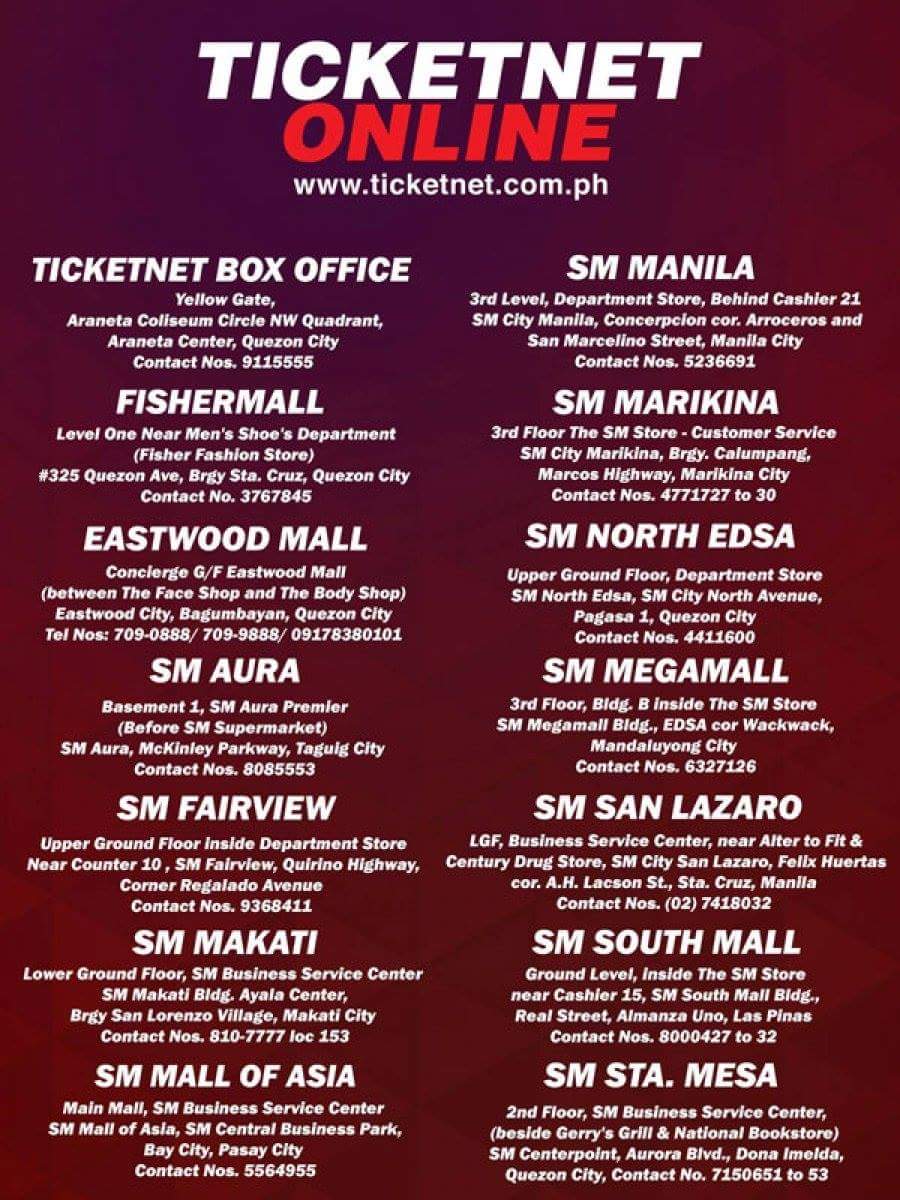 Presented by IME PH
Tags G Dragon in Manila
Get the Latest Concert Updates