CNBLUE Live in Manila 2017
CNBLUE Live in Manila on December 9, 2017 at the Smart Araneta Coliseum presented by IME PH.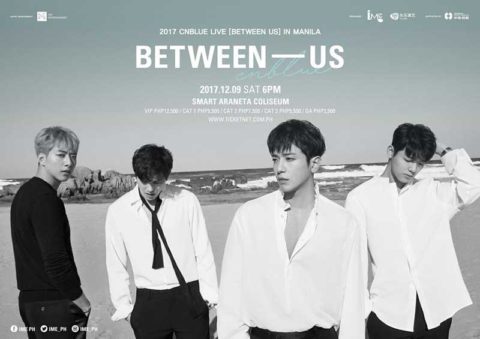 Ticket Prices:
VIP – P12,500
Cat 1 – P9,500
Cat 2 – P7,500
Cat 3 – P5,500
GA – P2,500
K-POP Rock Band CNBLUE is coming back to the Philippines! The group—composed of Yong-Hwa Jung (main vocal, rhythm guitar), Jong-hyun Lee (lead guitar, vocals), Min-Hyuk Kang (drums, vocals), and Jung-Shin Lee (bass guitar, vocals) is set to perform live for their filipino fans once again for the last stop of their tour "2017 CNBLUE LIVE – Between Us" in Manila this coming December 9th (Saturday), 6:00PM at the Smart Araneta Coliseum.
Known for their high-end performance, CNBLUE is a South Korean quartet band that made their debut in the Korean music industry last 2009. On 2010, they released their first Korean Mini Album 'Bluetory'. Since then, CNBLUE has continued to dominate Korean Music charts with their music. CN is an initialism for Code Name while BLUE is a backronym for Burning, Lovely, Untouchable, and Emotional. It is meant to portray the images of the four members Jonghyun, Minhyuk, Jungshin, and Yong Hwa, respectively.
Filipino Boice are surely on for a treat the South Korean Boy Band heads over to Manila for the LAST STOP of their Between Us Tour!
For ticket purchasing, reservations and inquiries, you may contact Ticketnet at 911-5555 or visit their website at ticketnet.com. 2017 CNBLUE [BETWEEN US] LIVE IN MANILA is brought to you by IME Philippines.
Tags 2017 concertscnblue live in manilacnblue manila concert 2017december 2017 concertsime ph
Get the Latest Concert Updates