2017 Global Peace Concert One K in Manila
2017 Global Peace Concert One K in Manila featuring KPOP acts AOA, BTOB, B.A.P, B1A4, CN Blue, SHINee and PSY on March 2, 2017 at Mall of Asia Arena.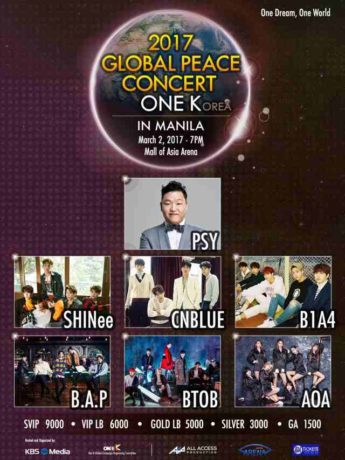 In an effort to seek global support for unification, the One-K Global Campaign Organizing Committee, consisting of 850 domestic NGOs including Action for Korea United (AKU), started the civic-led unification movement One-K Global Campaign in 2015. AKU distributed a campaign song, titled "One Dream, One Korea" sung by 28 top K-pop singers.
Ticket Prices:
SVIP – P9,540
VIP Lower Box – P6,360
Gold Lower Box – P5,300
Silver Upper Box – P3,180
GenAd – P1,590
Tickets are now available at all SM Tickets Outlets and online at smtickets.com
The Manila, Philippines show is brought to you by KBS Media and ONE K Global Campaign Organizing committee, in partnership with All Access Productions.
Tags 2017 concertsall access productionsaoa live in manilab1a4 live in manilabap live in manilabtob live in manilacnblue live in manilakpop concertskpop concerts 2017march 2017 concertspsy live in manilashinee live in manilasm tickets
Get the Latest Concert Updates