Impossible: The Magic Show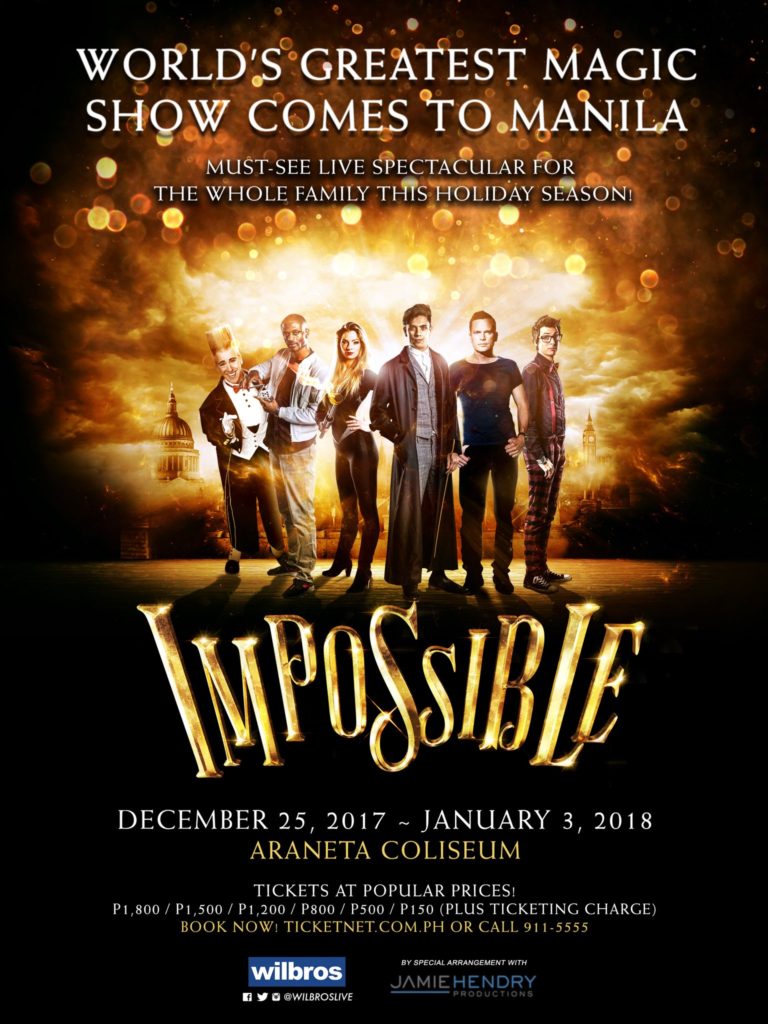 World's Greatest Magic Show comes to Manila! IMPOSSIBLE on December 25, 2017 to January 3, 2018 LIVE at the Araneta Coliseum.
Ticket Prices:
Patron VIP – P1890
Patron – P1575
Box VIP – P1260
Box – P840
Upper Box – P525
Gen Ad – P160
Tickets now available at Ticketnet Outlets or online at ticketnet.com.ph
Impossible, the breath-taking magic spectacular thrilling audiences worldwide. Fresh from its record-breaking second summer in London's West End, Impossible continues to tour the world.
Featuring the world's greatest illusionists live on stage in a daring, jaw-dropping display of magical artistry Impossible will electrify and amaze theatre-goers of all ages.
The line-up includes Explosive Street Magician Magical Bones, Daredevil and Escapologist Jonathan Goodwin, Cutting-edge Conjurer Sabine van Diemen, Grand Illusionist Josephine Lee, Boundary Breaking Magician Ben Hart, and Mind-blowing Mind-reader Chris Cox.
Fusing death-defying stunts, technological trickery, grand stage illusions and close-up magic, Impossible reinvents the biggest and best illusions in history in the greatest magic show on earth. This family-friendly live entertainment has to be seen to be believed!
Presented by Wilbros Live
Tags Impossible MagicImpossible Magic Show ManilaImpossible ManilaImpossible ticket pricesmagic showsticketnetwilbros live
Get the Latest Concert Updates