32nd Golden Disc Awards Happening in Manila This January 2018 Cancelled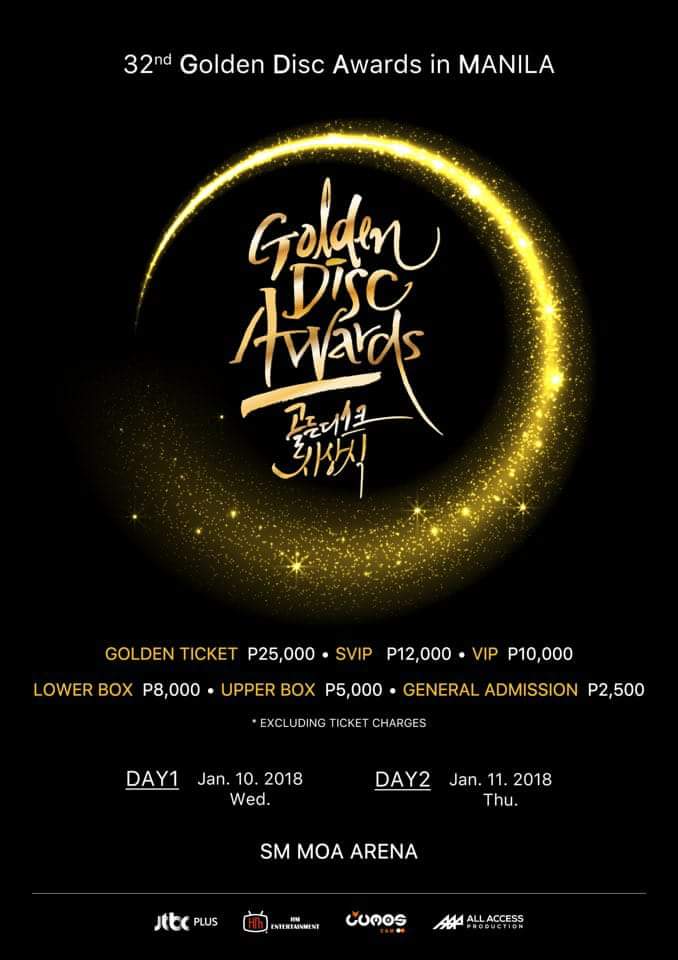 THE BIGGEST AND GRANDEST KOREAN ENTERTAINMENT EVENT HAPPENING IN MANILA THIS JANUARY 2018
32ND GOLDEN DISC AWARDS IN MANILA
2018 is definitely a big year for Kpop as the biggest and grandest award show and music festival from Korea will be staged in Manila, Philippines this January 2018.
Golden Disk Awards is the longest running award show in Korea and has been giving the most prestigious awards to K-pop artist since 1986 that is presented anually by the Music Industry Association of Korea for outstanding achievements in the music industry in South Korea. The awards show shall also feature various performances from K-pop groups.
The 32nd Golden Disk Awards, the biggest, grandest and most prestigious award show and music festival in Korea is happening in Manila, a first of its kind in the Philippines. The awards show will be held from January 10-11, 2017 at the Mall of Asia Arena.
Fans in the Philippines will be delighted to catch up to 24-28 artists flying to participate in the awards show in performance and in accepting prestigious awards and prized for their achievements in 2017.
The Golden Disk Awards will also host special events for lucky fans and event goers to participate like fan activities, sponsor booths, and the anticipated red carpet segment right before the main event.
Ticket wills range from Php 25,000 for Golden Ticket (2 Days), Php 12,000 for SVIP Standing and Seated, Php 10,000 for VIP, Php 8,000 for Lower Box, Php 5,500 for Upper Box, Php 2,500 for General Admission (Ticket prices subject to ticketing charges). More information will be posted soon.
The 32nd Golden Disk Awards in Manila is brought to you by All Access Productions with HM Entertainment in partnership with LUMOS E&M and JTBC.
Get the Latest Concert Updates