The Intensified "Crank Up Manila" in a Nutshell.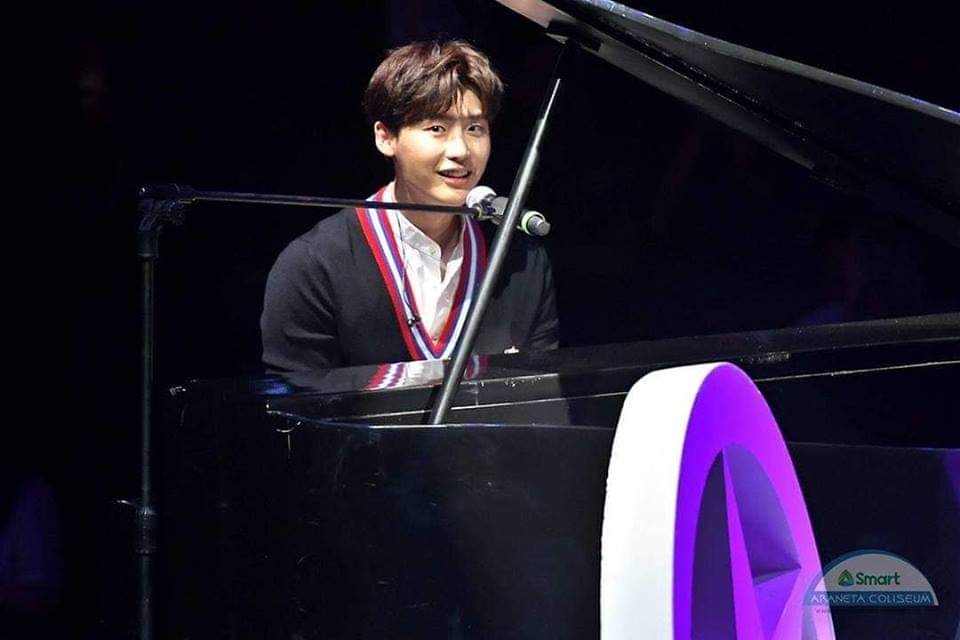 Lee Jong Suk, one of the most renowned South Korean actors of today, and dubbed by his Filipino fans as "Higop King", visited Manila last November 18. Crank Up in Manila is the last leg for LJS's tour. The K-drama prince was greeted by his Filipino fans at the Smart Araneta Coliseum with roaring cheers and piercing shrieks.
As early as 2:00pm, fans of various age and genders, lined up outside the Coliseum waiting for the gates to open. The fan meeting has been anticipated by Filipino fans for quite a long time.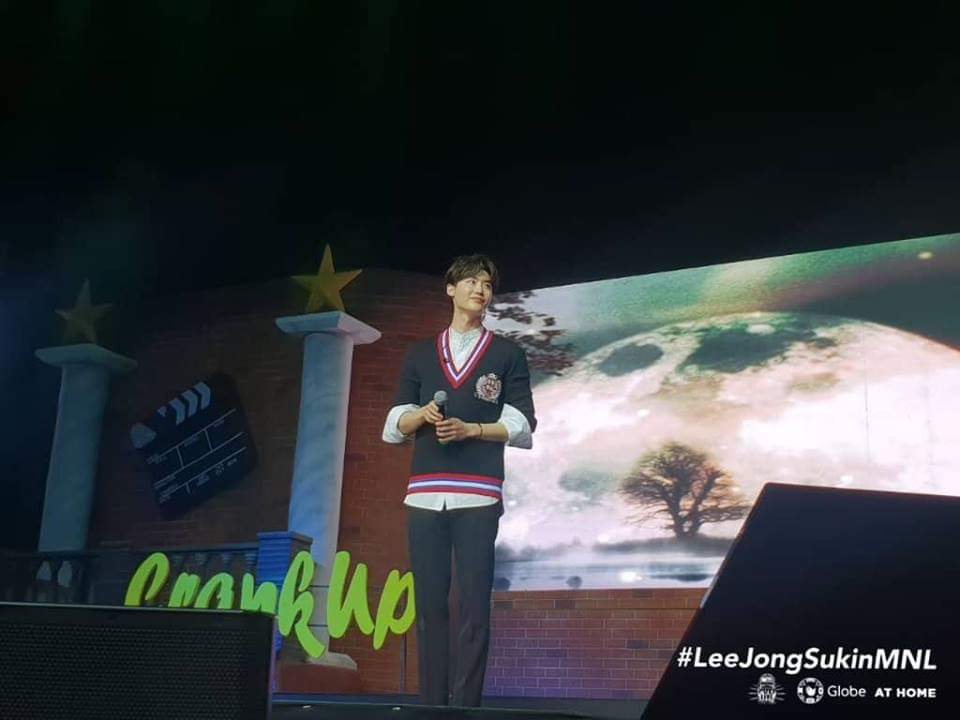 The fan meeting was hosted by Giselle Sanchez who is an avid fan of Lee Jong Suk. Giselle was vocal about how good looking the actor was and fans couldn't agree more, as the Big Dome was filled with the deafening screams when she confessed "You are so handsome," which brought a smile to Lee Jong Suk's face. Aside from his handsome features and charming and bubbly personality, Lee Jong Suk made sure to connect with his fans through the event.
Filipino fans are crazy in love with the Korean actor Lee Jong Suk, so here is the transcript of the Question and Answer segment where you can get to know more about him.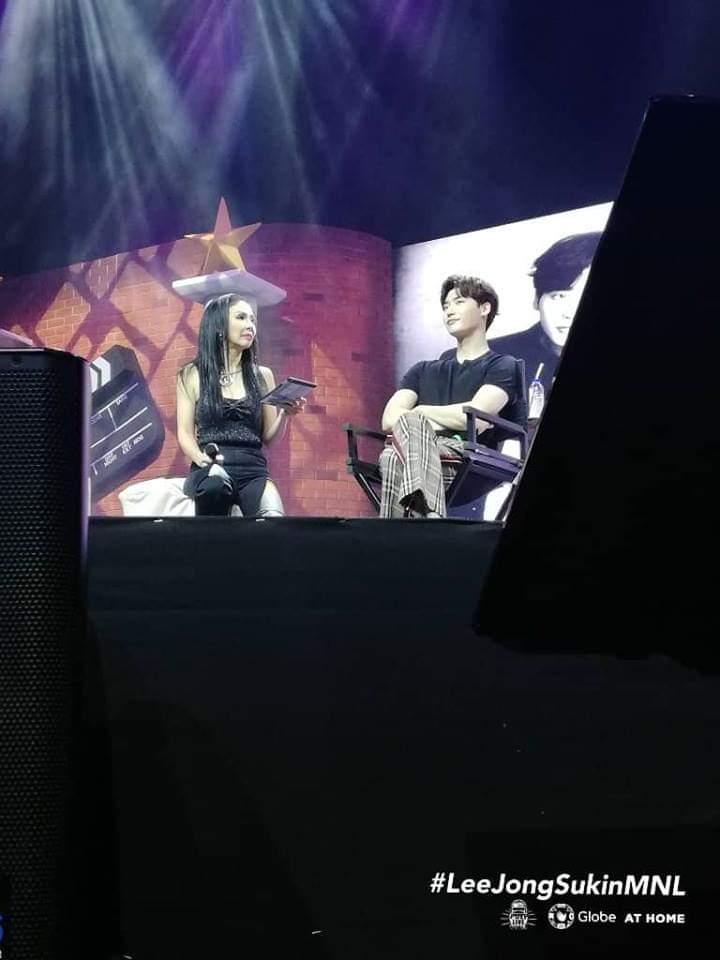 GS: What kind of son are you?
LJS: I tried my best to be a friend like my mom but I really don't know". (Whoa friendly indeed!)
GS: Is your mom similar to you or the opposite?
LKS: Because she is my mom, I guess we are alike.
GS: Aside from your mom who among your family has similar personality like you? example your looks?
LJS: My younger brother actually kind of looks like me but now he gained a bit of weight so I think if he loses weight and goes to a diet we will look alike again.
GS: Will he join showbiz business also?
LJS: No, he will not join the showbiz business but he co-owns the cafe.
(FYI: Korean actor and model Kim Woo Bin, close friend of Lee Jong Suk who was diagnosed of nasopharyngeal cancer last year, was seen hanging out with LJS at the cafe most of the time! )
GS: How do you manage stress? Or how do you de-stress?
LJS: I usually release my stress by eating good stuff, delicious food but now since I'm entering a new drama I really can't release my stress that way, but I think meeting my fans like this is how I can release my stress.
GS: What are you anticipating here in the Philippines?
LJS: I feel really thankful and surprised when you are shouting my name at the airport already. I felt bad that I wasn't able to greet you there, so I'm happy we were able to see each other today.
GS: For you, how meaningful is your 2018?
LJS: So 2018, I turned 30 in the Korean age system, and so I think because of that I tried to become more mature and I have a lot of thoughts. I also met my fans through fan meetings, and also I am thinking of what to do on my next project, and because next year we might have a break from each other.
GS: How do you spend your last day of the year? For example this December 31, do you have special plans?
LJS: I usually spend my last days of the year doing shooting! Probably I'll be shooting again this year, but I hope to spend it more special so on the last month left I would think hard of what to do.
But this question definitely got the fans swooning more over the actor.
GS: Your fans love you so much, are there any memories from your fans that you find special?
LJS: RIGHT NOW!
The question and answer went on asking the actor about the most memorable role he portrayed, to which he responded Jung Jae Chan for While You Were Sleeping.
The three best kiss scenes were also played into the screen which set up the romantic atmosphere in the Coliseum. First best kiss scene was from Pinocchio with Park Shin Hye ( the scene where Choi Dal Po back hugged Choi In Ha), 2nd best kiss scene is from While You Were Sleeping with Bae Suzy and the last but the best one (I must say!) is from the scene in W with Han Hyo Joo ( the part where Kang Chul visited Oh Yeon Joo in prison).
GS: What was the most difficult scene to shoot?
LJS: There was a time when I had to jump into the bridge, so I think that time I was scared and nervous about that.
There was also a segment called OX Talk for "O" Yes and "X" for No.
Be ready for this!
Forbidden Love – O
I am a jealous person – O
Man and Woman can become friends – O
I am consistent the Ideal type – O
I am very active and enthusiastic when falling in love – O
GS: Why a jealous person?
LJS: I don't know, but I have a lot of jealousy in me.
GS: Can you please give an example of active and enthusiastic when falling in love?
LJS: When I want something, I have to have it.
(Wow! says the fans and LJS! and then all the fans were screaming and went wild )
*Example of Ideal type
LJS: I want someone who is wise!
Aside from the interview portion, LJS showcased his talent when he played the piano with the song "My Soul" and "Will You Know/Do You Know". He countlessly apologized to his fans as he kept on committing mistakes hitting the wrong note on the keyboard. "Today, I really want to do my best" said Lee Jong Suk. The fans made sure to commend the actor by saying "괜찮아요' (It's Okay). He also cheerfully joined a game with his fans who were given a chance to see him up-close and to hug him onstage.
"I know that this is the last stop but I am so glad that I was able to do it here in Manila. Thanks for the memories that I can bring home with me. Thank you and I love you guys. I hope you guys go back home safely. You guys are my pride and today's memories. I will never forget you. Thank you".
The actor then concluded "Crank Up in Manila" with the songs "Come to Me and Only Then" which is part of the original sound track of While You Were Sleeping. The two hours quickly passed by and sadly, our oppa's fanmeeting has come to an end, but surely Filipino fans will continue to support you on your future projects.
Special thanks to Pulp Live World
Words by Jerrami Voluntad and Gellie Jam
Alonto
Photos from Araneta Coliseum and Pulp Live World
Tags Lee Jong Suklee jong suk fan meeting manilaLee Jong Suk Manila
Get the Latest Concert Updates