EXO Shakes Up The Big Dome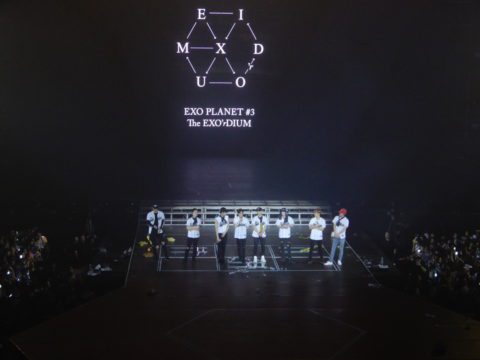 January 2016 saw EXO make Philippine Kpop history as the first-ever act to hold a two-night concert. A little over a year later, the nine-member group is back in Manila, shattering their previous record by mounting two nights of Exordium in Manila at the Big Dome. EXO-Ls, as the fandom is called, have marked the event even before it was officially announced by Pulp Live World, pinching Pulp's Vernon Go and Happee Sy for details over social media. Droves even trooped overnight at the Araneta Coliseum to secure premium seats on the first day of ticket selling. With the massive turnout and deafening screams throughout the night, EXO further cements their status as among Kpop's biggest acts.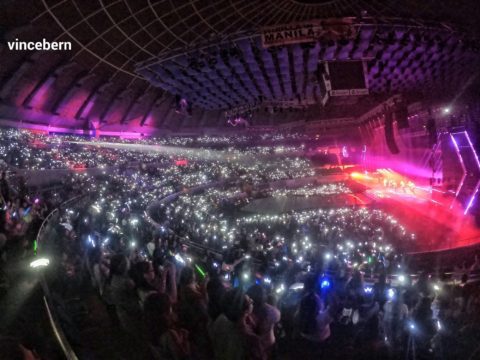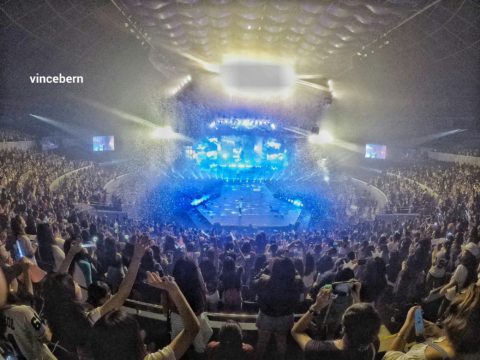 The group showed up one member less with Lay unable to attend due to prior commitments. Despite online comments expressing dismay over not seeing all members, Filipino fans cheered loudly for Lay every time he appeared on video. The show went on, and went on spectacularly.
The atmosphere was electric. The audience leapt to their feet soon as the lights dimmed. The ocean of twinkling silver lights was a sight to behold.
Donning red velvet tuxes, the night aptly opened with Mama, the group's orchestra-infused debut track. Monster and Wolf followed before the group introduced themselves. Baekhyun's solo dance break for Monster was a particular stand-out. Of course, the audience screamed "chogiwa" along with Chanyeol for Wolf. This was followed by a string of some of their sexiest tunes- White Noise, Thunder, Playboy, and Artificial Love. Artificial Love is undoubtedly the sultriest number of the night, with the choreography involving romancing a cane.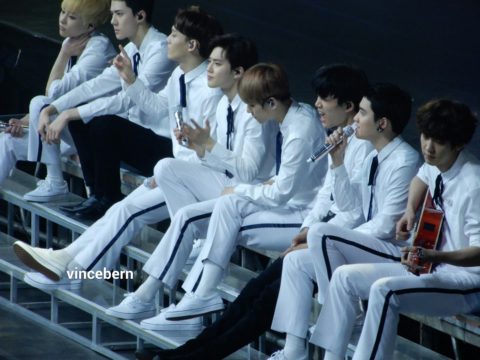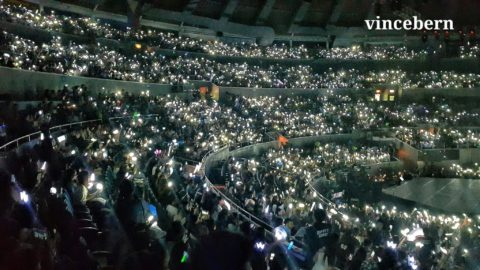 Chanyeol provided guitars for an acoustic medley of My Lady, My Turn to Cry, Moonlight, Call me Baby, Love Love Love, and Lady Luck. Youngest members Kai and Sehun hiked up a platform and danced to Lady Luck, their tall physiques emphasizing graceful movements.
EXO showed no signs of tiredness, further hyping up the already pumped crowd for Love Me Right, 3.6.5, and Overdose. Transformer was an impressive number, with the boys speed dancing to the beat and in synch with the explosion of fireworks behind them. They turned into jedis for a moment, wielding lightsabers for, well, Lightsaber which was penned in collaboration with the Star Wars: The Force Awakens movie. Araneta's wooden floors echoed with the jumps that accompanied Drop That, a number made more memorable by Chen's powerful high note. Finally, they sang Angel and waved goodbye.
The boys were happy, immensely thankful of how warm and passionate the Filipino crowd is. Baekhyun shared they weren't supposed to smile performing Overdose, but found themselves overjoyed they couldn't help it. Xiumin revealed he was shocked the first time he heard the stomping, it's not something they've heard anywhere else. Last year, the VIP crowd for Exo'luxion had a dance off, something that's happened only in the Philippines. It seems Filipino EXO-Ls are creating lasting impressions with every concert. The eldest member further added that he gave it his all this year because he was unable to dance last year due to an injury. The other member injured last year, Kai, spoke of how he felt like he was performing for a crowd of 70,000 because of the insane energy from the fans.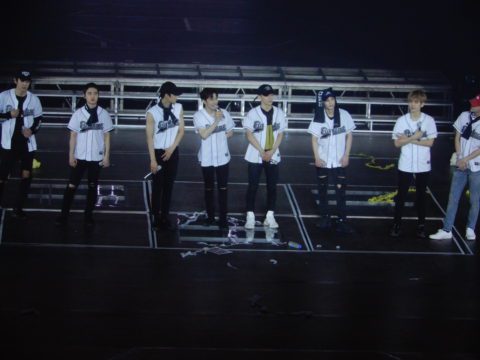 The EXO members looked dreamy, spoke well, danced sharply, and hit every note– an amazing feat noting they performed almost 30 songs for the three-hour set. The boys effortlessly owned the stage. Since their previous concert, they've grown much more comfortable and in control.Their personalities shined through even in the videos showed during breaks.
They delivered hits from the MAMA EP down the line to the EX'ACT album, showcasing breadth from the RnB favorite What If to the hip-hop Full Moon. They seamlessly transitioned from dance-heavy numbers to stripped down sets, each time evoking a different image to match the song, whether it be badassery, cuteness, or full-on swagger. As expected of the record-breaking group, the technical control, camera feed, and stage design were flawless down to the minutest details. Pulp Live did an impeccable job organizing this one.
This is EXO's fourth time in the country, the first being their 2013 Dream KPop Fantasy Concert appearance. They have been all over the world and performed in different languages, but it's heartwarming how they still remember the lines to Hawak Kamay, the song they covered during their 2013 visit. Safe to say, they'll be most welcome to perform the fifth time onwards. Afterall, exordium means beginning, their young careers will only blossom from this point on.
Special thanks to Pulp Live World.
Words by: Marijo Endriga
Photos by: Vince Bern
EXO'rDIUM in Manila Setlist (Day 1)
1. MAMA (Remix ver.)
2. Monster (Remix ver.)
3. Wolf (Remix ver.)
4. White Noise
5. Thunder
6. Playboy
7. Artificial Love
8. Unfair
9. Acoustic Medley
• My Lady
• My Turn To Cry
• Moonlight
• Call Me Baby
• Love Love Love
• Lady Luck
10. What If
11. Tender Love
12. Love Me Right
13. One and Only
14. Stronger
—VCR
15. Heaven
16. Girl X Friend
17. 3.6.5
—VCR
18. Overdose
19. Transformer
20. Lightsaber
—Ment
—VCR
21. Full Moon
22. Drop That
23. Let Out The Beast
24. Lucky
25. Run (Remix ver.)
—Encore
26. Growl (Remix ver.)
27. Lucky One
—Ment
28. Angel
Tags exo manila 2017Exordium reviewskpoplive in manilapulp live world events
Get the Latest Concert Updates