A Galaxy Full of Glowing Stars
The Black Star Tour: Avril Lavigne Live in Manila Concert Review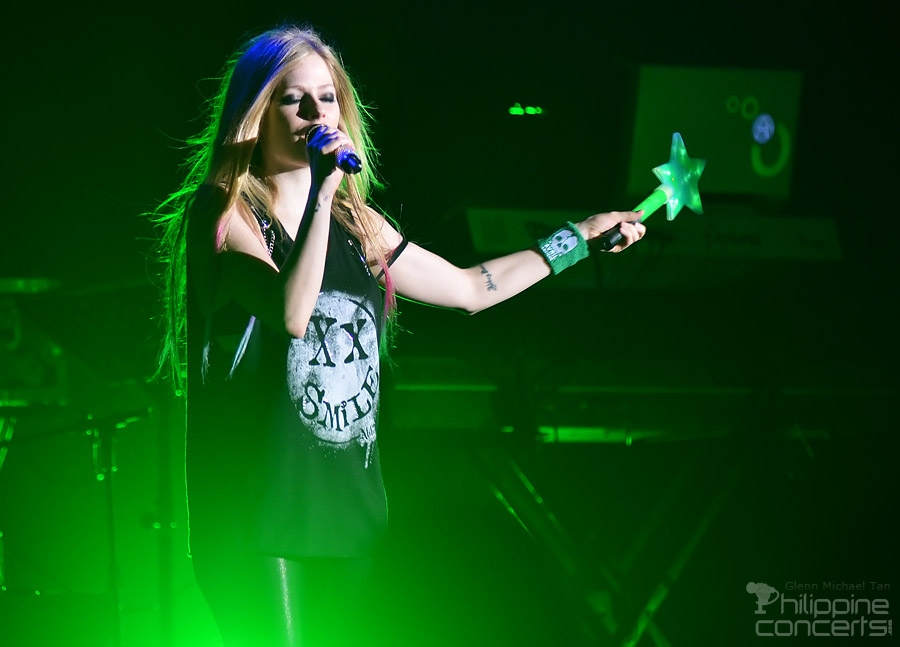 Avril Lavigne performed her 3rd successful concert in Manila last February 16, 2012 at the Smart Araneta Coliseum. Presented by Wilbros Live and Midas Promotions, Manila was the 2nd to the last stop of her Black Star Tour. The venue was packed with glowing stars from the fans. The venue was like a small galaxy full of stars.  She is still look young, beautiful, talented and has massive of fans that made a concert a sold out event and performed a 75-minute set that included all of her greatest and recent hits.
The night started out with beats and hits from Somedaydream exactly at 8PM. Good thing it was on time because a lot of concert goers had to go to school next day.  A song called Black Star opened the show for her Manila tour same on what she did on her latest album Goodbye Lullaby. The stage lights appeared and Avril Lavigne went up the stage as well with complete live band, holding a neon green light up star while happily waving to the huge crowd. As expected, the fans went wild and shouted like crazy. The amazement of the entire Smart Araneta Coliseum was unbelievable. She immediately shifted to her up-tempo and the first hit single from Goodbye Lullaby, What The Hell. The 3rd song of the night was one of her biggest hits Sk8er Boi, during this performance the energy of Avril lifted the energy of the audience wherein everyone was jumping while singing this song. She performed another greatest hit He Wasn't which was from her sophomore album Under My Skin. She belted out with her 6th song of the night called Alice, an OST from hit movie Alice In Wonderland. She hit all the high notes from the start up to the very end of this song.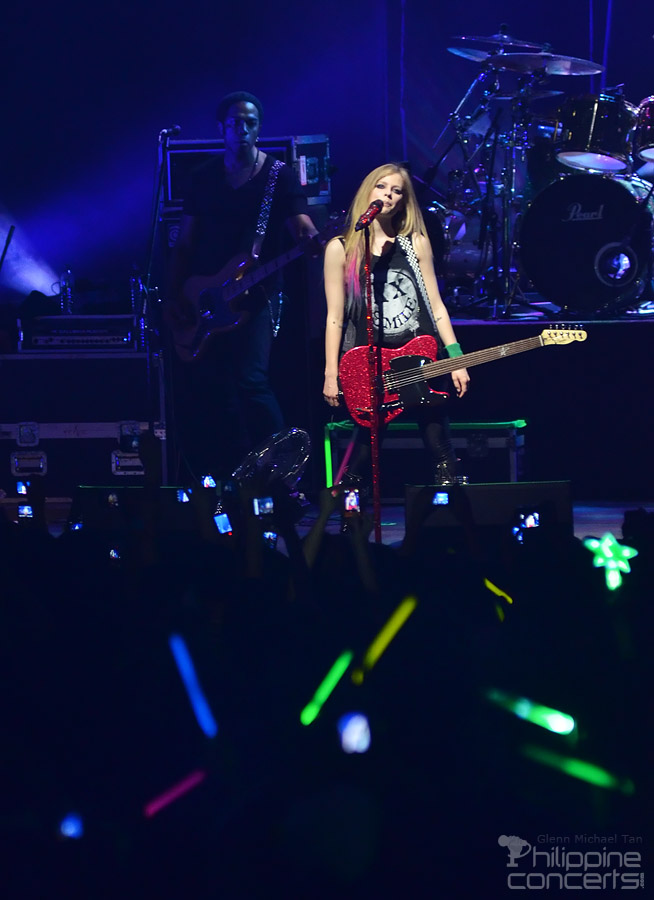 The massive fans knew every word and sang along as she performed songs from her latest album such as Wish You Were Here and Smile plus old favorite rock ballad When You're Gone which was one of the highlights of the night. Who can forget her number 1 hit Girlfriend, this song was received very well wherein everyone was singing their favorite part "Hey hey you you". One of loudest audience participation happened during the refrain of I'm With You. She gave the fans to sing-along the refrain part over and over again like 3-4 times. Everyone was laughing and enjoying the moment. The way the song Airplanes shifted into My Happy Ending was great as well.
The lights dimmed to prepare for their encore set and as expected the fans became crazy chanting "We want more, we want more". Of course Avril and her band did not fail the audience by giving Push, I Love You and her most awaited signature song Complicated. For the last time and before leaving, she waived the audience with a huge smile and thanked her pinoy fans for supporting her all throughout of her career.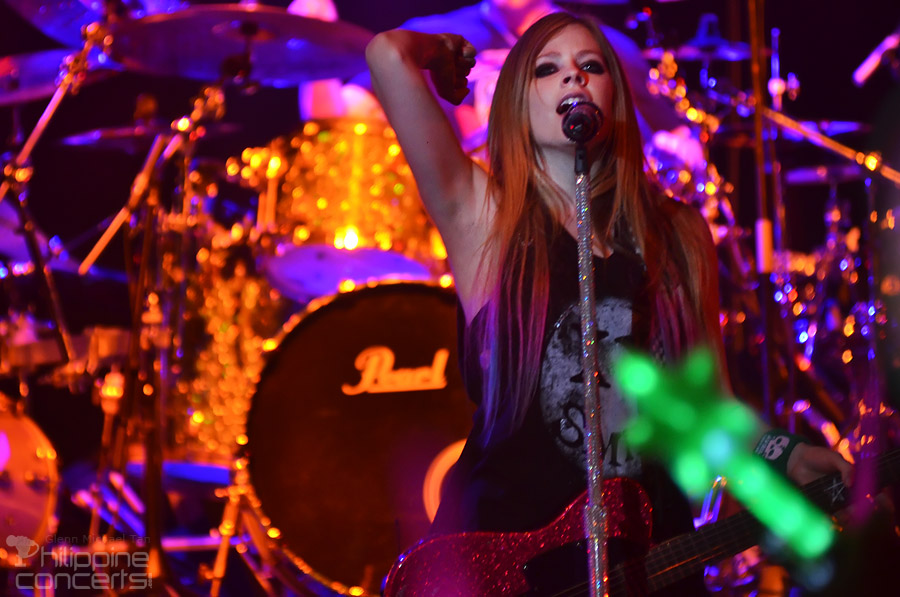 Overall The Black Star Tour: Avril Lavigne live in Manila was great, though we noticed that there were some performances that Avril was kind of exhausted or seemed to lack an energy. The good thing was she touched all of her popular songs from each album making the concert more lively, everyone was on their feet and no one sat down from start to end. The sound setup was amazing, we're able to hear clearly her live singing voice, it's loud and yet delivered good quality. To witness a concert Avril Lavigne is everyone's dreams of all her young and growing fans, thanks to Wilbros Live and Midas Promotions for bringing the Pop-punk princess live in Manila.
More Avril Lavigne Live in Manila Photos at the Philippine Concerts Gallery
The Black Star Tour: Avril Lavigne Live in Manila was presented by Wilbros Live and Midas Promotions
Written by Ryan Santos
Photos by Glenn Michael Tan
Tags avril lavigne live in manilaavril lavigne live in manila photosavril lavigne manila concert picturesavril lavigne photosgmtanthe black star tour manilawilbros live
Get the Latest Concert Updates